Things You'll Need
4 wood poles (window length plus at least 4 inches)

4 24" wood poles

Drill and screws

Fabric scissors

Cotton tent-weight canvas or parachute rip-stop nylon fabric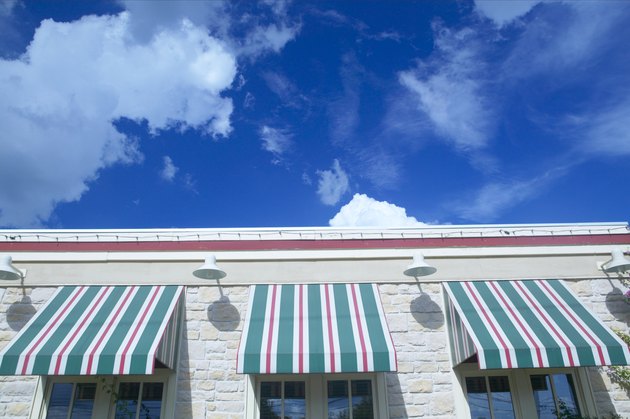 Whether you have a small loft in the city or a large house in the suburbs, you make your home reflect your personal style and vision. Shaping the character of your space involves finding the right furniture, artwork and accessories. And perhaps some of the most overlooked, yet central, elements of any home design are window treatments. The awnings, curtains and draperies you choose to adorn your windows greatly affect the overall feel and flow of light in your home. Luckily for those who are on a budget, there are many great ideas you can use to create your own beautiful awnings.
Step 1
Determine what shape awning you would like to purchase: semicircular, square or rectangular. Once you have decided upon the look you are hoping to achieve, you will need to measure the width of each window you will be covering so that you can purchase the appropriate materials. Keep in mind that the awning will extend approximately 2 inches on each side.
Step 2
Take a photograph of each window on a sunny day so that you can see where the light reflection hits the surface of the window You will then use the location of the light reflection to determine how far down you would like your awnings to hang.
Step 3
Use the appropriate length of wood, which is the length of the window at least 4 inches, and hold it at a right angle to a 24-inch piece of wood. Use a wood screw drill to drill the pieces together in this position. Repeat on the other end of the long wood pole. Repeat three additional times along each 24-inch length of wood, so that there are even spaces between each long wood pole
Step 4
Lay the framework down so that the outer wood pieces are at 90 degrees and the inner pieces are evenly spaced apart. Attach an additional 24-inch piece so that it is perpendicular to the bottom pole as well as to the lengthwise 24-inch pole. From the side it should appear to be a right triangle when assembled. Repeat on the other side as well. Attach a 3-foot wood piece diagonally across the framework on each side.
Step 5
Attach your desired fabric. After stretching the fabric so that it covers the entire framework, staple or nail into place. Use fabric scissors to trim any excess fabric. To increase durability and resistance to rain, consider adding a layer of clear, water-resistant rubber as well.