One of the most elegant finishing touches to window treatments is a beautiful scarf. Window scarves can be hung over draperies, curtains, blinds or shades to add a note of sophistication. Some are adorned with beads and tassels to add a dressy or fun touch. Although they lend themselves to formal settings, scarves also work in provincial or rustic styles if the fabric drapes well. Perhaps the easiest window treatment to hang, scarves are a good choice for do-it-yourself enthusiasts. Since they are simple rectangles, they are easy to make as well, requiring only hemming skills and an iron.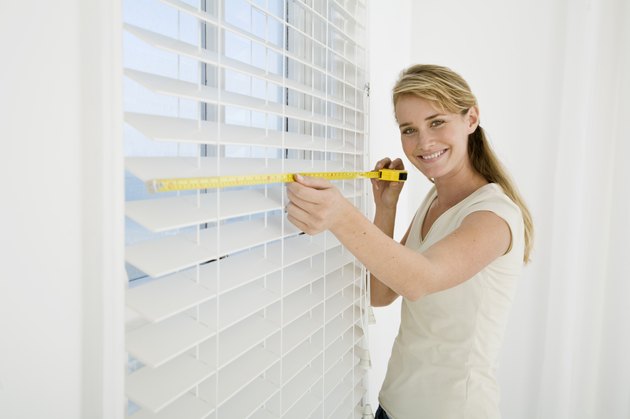 credit:
Jupiterimages/Goodshoot/Getty Images
Step 1
Measure the height of each window and jot down the measurements. Use a ladder if you cannot comfortably reach the height of the window.
Step 2
Measure the width of each window, plus the amount the scarf is to extend onto the wall.
Step 3
Measure the distance you want the scarf to drop down on the left and right sides. The drops may be asymmetrical, if you wish.
Step 4
Add these three figures together to get the approximate length of scarf you need. Add 18 to 30 inches if you are planning to loop the scarf around the curtain rod or drop it down in the center. To blouse the tails, add an additional 12 to 18 inches for each tail.
Step 5
Purchase a scarf in length closest to this total measurement. One of the advantages of scarves is that they do not have to be made to exact measurements.