Things You'll Need
Tape measure

Pencil

Drill with a Phillips head bit

Self-tapping screws

Level

Valance rods (optional)
Tip
Buy self-tapping screws that will fit the holes of the mini blind brackets. Mini blinds may come with screws that are differently sized, so you'll have to buy screws that will substitute for each screw provided.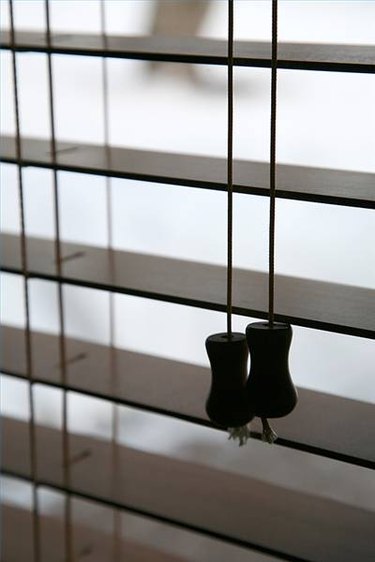 Hanging a mini blind on a metal door is much easier than it sounds. Many mini blind styles are available, from 2-inch real wood blinds to very inexpensive 1-inch vinyl blinds. If you are purchasing a new mini blind and can have it cut to size while you wait, have the mini blind cut two inches wider than the window in the door measures. And be sure the mini blind is also the same height or taller than the window in the door. If the blind you are buying is unable to be custom-cut, be sure the blind measures at least 2 inches wider than the window. Once these issues are taken care of, you are ready to begin.
Step 1
Using a tape measure and a pencil, mark the door where the blind's hanging brackets are to be placed.
Step 2
Make sure the marks are mirror images of one another on both sides of the window--with level in hand--and that the marks are level.
Step 3
Use a drill and self-tapping screws to attach the brackets to the metal door. A self-tapping screw will drill its own hole in the metal, and the threads of the screw will thread the hole as the screw is driven home. The brackets should snug up to the door securely.
Step 4
Slide the blind into the brackets. Apply the retainers that either come already attached to the brackets, or slide them in separately.
Step 5
Test the functionality of the blind. Be sure that it works properly and that it does not drag along the door or interfere with any of the door's hardware or functions.
Step 6
Apply the valance that comes with the mini blind, using the hardware provided..
Step 7
Apply valance rods to add decorative fabric valances to the door in the same way that the mini blind brackets were applied to the door (see Steps 1 through 3).
---
Josh surprisingly found himself as an English Literature major one day after planning on becoming a doctor for most of his life. He graduated with a BS from Utah Valley University in April 2003.