Balloon shades are a softer form of Roman shades. The less structured the shades, the easier they are to make. To construct some easy balloon shades, make each shade from a full width of your chosen fabric; half-again as wide as your window or even less can provide enough horizontal bunching on a rod through a pocket. A loosely woven fabric with a soft finish will contribute to the draping of your shades but will not block all the light.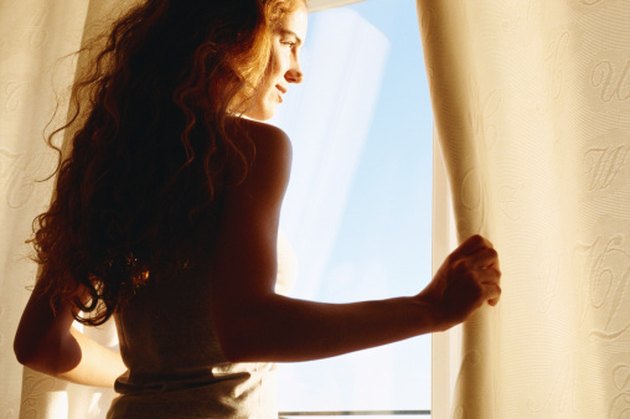 Step 1
Trim the selvages from the sides of the fabric. Turn under and stitch half-inch hems on the sides.
Step 2
Turn up and stitch a deeper hem on the bottom edge. How deep a hem you want will depend on the weight and opacity of your fabric and whether you want the edge to flare or hang softly when the blind is drawn up.
Step 3
Turn down a hem from the top to accommodate your curtain rod and stitch it down.
Step 4
Measure an even distance in from each side and mark it down the length of the wrong side of the fabric. These will be the lines on which the shade is drawn up; placing the lines closer to the edges will give you a deeper swag in the middle of the shade. Lay the bias tape down the lines, folds toward the fabric, and stitch in place. Trim the ends of the tape at the top and bottom hems. If you're using plastic rings instead of tape, stitch them directly to the fabric, evenly spaced along your marked lines and even with each other across the shade.
Step 5
Thread half the shade cord down through each tape or row of rings. Secure the bottom ends at or within the bottom hems, depending on the effect you want.
Step 6
Insert the curtain rod into the top hem of the blind and distribute the extra width evenly. Mount the curtain rod and set a screw eye into the top of the window frame at the point where each cord comes out the top; set the third one at one end of the window frame. Thread the cords through the screw eyes.
Step 7
Mount the shade cleat partway down the side of the window frame where the cords hang down. Draw the shade up as you like and hook the cords in the cleat.