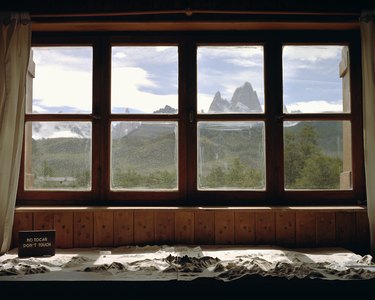 Window film allows an unobstructed view to the outdoors, while providing protection against the sun's harsh rays. It also might save you from bodily injury. Window films enhanced with titanium or platinum metal are strong and lightweight, and are manufactured to withstand direct impacts when placed on windows. Although titanium and platinum window films are very similar in performance, there are some slight differences. Expect to pay a hefty price tag for both of these superior, metal-enhanced window films.
Energy
Some energy-saving platinum and titanium window films are designed to cut cooling costs by up to 50 percent. The emissivity rating measures the efficiency with which a window reflects heat back towards the heat's source. During the summer, the heat source is the sun and in the wintertime it's the furnace. Lower emissivity numbers reflect better insulating qualities. Gila's energy-saving platinum window film has an emissivity rating of .44, making it a better insulator than its energy-saving titanium window film, rated at .63.
Cyber Security
Computer hackers are on the rise. But, thanks to titanium and platinum coated window films that contain an invisible shield of metal, the wireless data signals that are broadcast into the air are restricted or weakened. This makes it more difficult or impossible for tech-savvy hackers to penetrate. Some police and military have titanium or platinum window films applied to office windows to help protect confidential information from cyber thieves. Both titanium and platinum window films are ideal, invisible barriers in the battle against computer hackers.
Glare and UV
Window film reduces the glare produced by sunlight. The amount of visible light reduced by the addition of window film is called glare reduction. Gila's energy-saving titanium window film reduces glare by 74 percent as opposed to its platinum film, which provides a 67 percent reduction in glare. Both types of window films showed a whopping 99 percent rejection of damaging UV light.
Tax Credit
Platinum and titanium window films run neck-and-neck in providing you with an income tax credit, which reduces your taxes. An energy tax credit provision for qualifying window films applied to residential windows went into effect January 1, 2011 and expires December 31, 2011. The qualifying credit is 10 percent of the window film cost, up to a maximum of $500. Installing energy-saving titanium or platinum window film is an ideal way to save on energy and taxes.
---
Mary Cockrill's education and certifications in interior design and home staging have allowed her to author numerous home-related articles. Cockrill has been a top design consultant for a renowned home store and is the owner of Starwood Home & Gifts, LLC, an interior design, decorating and home staging business. She holds a Bachelor of Science in secondary education with a comprehensive major in office administration.