Things You'll Need
2 curtain rods

Curtains

Valance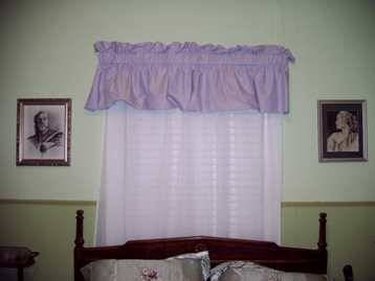 You have a room that needs something simple and elegant hanging across the window. Decorating a window with a sheer panel or lightweight curtain and a valance can finish a room with a light and airy touch. Valances come in a variety of widths and styles, including boxed pleats, faux balloon, traditional swag or scalloped edge treatment. Even though they might look otherwise, many valances are actually made to be hung using a simple curtain rod.
Step 1
Buy two different curtain rods. Lightweight curtains and sheer panels can be hung with a café rod, while heavier material will need a regular curtain rod that comes out from the wall about 2 inches. The rod for the valance will depend upon the style of the window treatment, but it should come out from the wall at least 4 inches. Make sure that the part of the curtain or valance where the rod is threaded is wide enough for the rods to be threaded through them.
Step 2
Install the hardware for the cafe rod or regular rod for the sheer panel or lightweight curtain. Position it so that it comes in 2 inches from the outside edge of the window.
Step 3
Install the hardware for the valance. Place it on the outside of the previous rod, on the edge of the window.
Step 4
Thread the lightweight curtain or sheer panel onto the café rod or regular curtain rod. Place the rod onto the hardware. Evenly distribute the curtain across the rod.
Step 5
Thread the valance onto the its rod. Place the rod onto the hardware. Evenly distribute the valance across the front of the rod around to the side so that it covers the café rod entirely.
---
After attending Hardin Simmons University, Kay Dean finished her formal education with the Institute of Children's Literature. Since 1995, Dean has written for such publications as "PB&J," Disney's "Family Fun," "ParentLife," "Living With Teenagers" and Thomas Nelson's NY Times bestselling "Resolve." An avid gardener for 25 years, her experience includes organic food gardening, ornamental plants, shrubs and trees, with a special love for roses.