Things You'll Need
Tissue paper

Pencil

Scissors

Fabric marker

Hot glue gun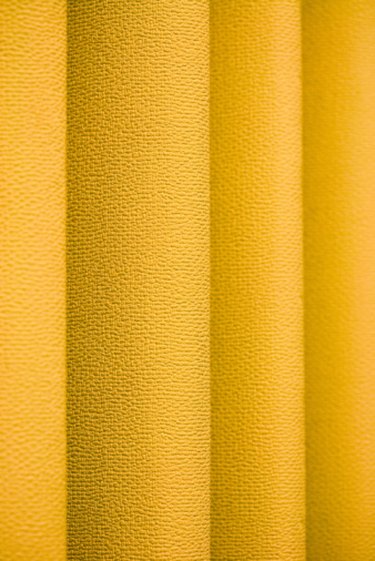 Vertical blinds are an effective window covering for large windows and patio doors. They offer light and privacy control to the room. Replacing the blinds can be an expensive hassle when you plan a remodel or update your decor. Use fabric to update the blinds to avoid replacing the blinds entirely. Covering vertical blinds with fabric is a way to change how they look to refresh or complement new decor.
Step 1
Remove the individual blinds from the clips that hold them in the track.
Step 2
Trace one of the blinds onto a large sheet of tissue or tracing paper with a pencil. Old wrapping paper or craft paper on a roll will work if the blinds are longer than tracing or tissue paper.
Step 3
Cut out the traced blind shape with scissors. This will be your pattern.
Step 4
Place it on the fabric and trace it with a fabric marker. Trace it twice for each blind you are covering, to make a front and back panel.
Step 5
Cut the traced lines along the fabric to cut out each panel.
Step 6
Heat a glue gun on medium heat until the glue melts.
Step 7
Apply a bead of glue to the bottom edge of one blind and smooth the matching edge of a piece of fabric over it. Align it perfectly so the edges match up.
Step 8
Apply beads of glue along the side edges up to the top of the blind. Smooth the fabric over the blind. Allow the glue to dry and cool. Repeat the gluing process for both sides of each blind.
Step 9
Place the blinds back into the clips on the track.
---
Ashley Kurz, a full-time professional writer since 2009, publishes on various informational websites. An expert in the craft field specializing in craft-related topics, Kurz has taught arts and crafts for group therapy sessions.