Things You'll Need
Vacuum

Bucket

Mild antibacterial soap

White cleaning cloths

Bleach
Warning
Use caution with bleach. Do not let it splash on clothes or drip on carpets and rugs.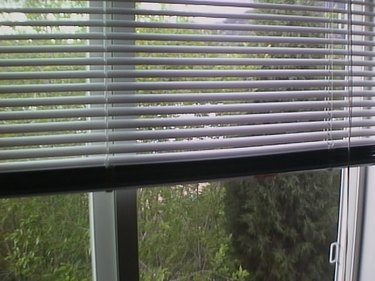 Clean mini blinds without taking them down to avoid leaving windows uncovered. Blinds collect dust, insect debris and stains from spills and splatters. Window coverings and pull strings can also get discolored over time. Even routine house cleaning like dusting and window washing can soil the blinds. If they're taken down to be washed in a tub or sprayed outdoors, they have to dry before going back over the window.
Step 1
Open the blinds and let them down all the way. Pull the bottom out from the windowsill and let it fall to expose all the slats. Even the bottom blinds that don't normally open get dirty. Turn the blinds to their horizontal position so they're not touching each other.
Step 2
Vacuum the loose dust off the slats. Use a brush attachment on the end of the hose and vacuum as much dirt off the tops and bottoms of the slats as possible.
Step 3
Pour an ounce of antibacterial soap into a bucket with 1/2 gallon of warm water. Wet a clean cloth with the mixture and ring out excess moisture. Pinch the dampened cloth around a slat and slide it from one end to the other, stopping to get around the support strings. Rinse the cloth out in the sink whenever it gets soiled, and dip it into the soap mix before continuing. Clean every slat along with the valance and top bar.
Step 4
Clean the pull strings. Wet a clean white cloth with warm water in the sink. Pour a small anount of bleach on the wet cloth and squeeze out the excess moisture over the sink. Pull the draw string to raise the blinds completely. This will expose the entire length of the draw strings. Grip the cloth around the strings with light pressure and pull it down the length. Leave the strings down until they dry. The bleach and water mix will soak into the strings and restore their white color.
---
Jonra Springs began writing in 1989. He writes fiction for children and adults and draws on experiences in education, insurance, construction, aviation mechanics and entertainment to create content for various websites. Springs studied liberal arts and computer science at the College of Charleston and Trident Technical College.