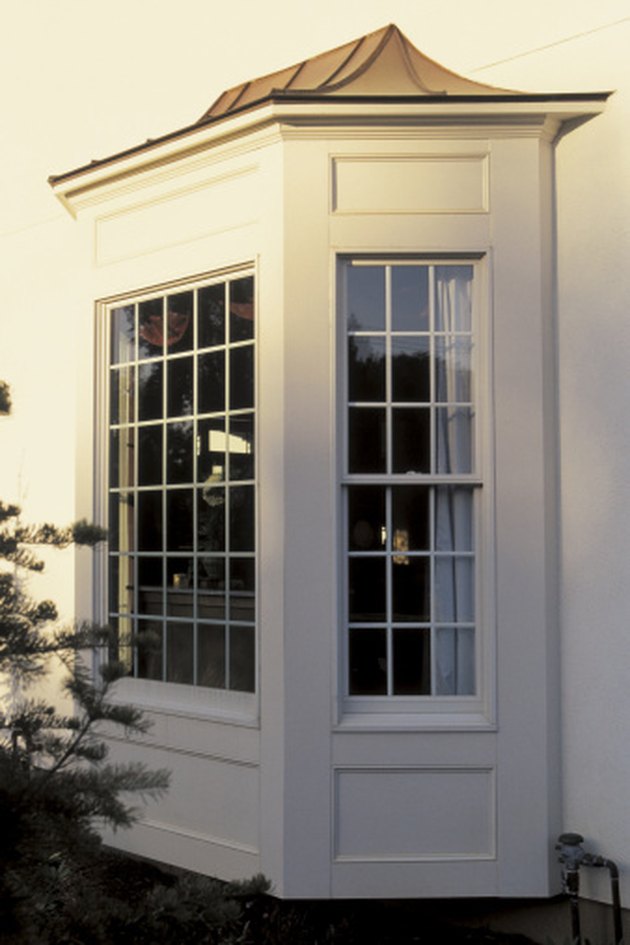 Unlike traditional, flat plane windows, bay windows add dimension and a touch of elegance to indoor spaces. You can let in more light and take in more of the view outdoors from one of three angles, rather than just straight ahead. The appropriate size bay window will vary from one house and homeowner to another, but there's no shortage of product to fill any size space.
Sizes
When choosing a size for a bay window, first consider standard sizes, which range from 3 feet, 6 inches to 10 feet, 6 inches in width and from 3 feet to 6 feet, 6 inches in height. Standard windows are less expensive and are readily available from a number of manufacturers. Choosing a standard-size window also takes advantage of current window space, occupying all or less of it. Custom-size bay windows are available but are more expensive than standard sizes; plus there's additional cost, anywhere from $300 to $500, as of July 2011, to enlarge the opening to accommodate the larger window.
Types
Two types of bay windows are sold; the angled bay is the most common. It slants back toward the wall and protrudes from the house at a 30- or 45-degree angle. Box bay windows have a squared appearance, coming off a house at 90 degrees. It is sometimes called a greenhouse window or garden bay because of its design and frequent use.
Materials
Wood, vinyl and clad are the three most common materials that bay windows are made of. While vinyl offers the advantage of no maintenance, and is affordable, not everyone finds the vinyl look desirable. Wood frames require periodic repainting to prevent rot, and clad windows are the most expensive but are low maintenance and have a more attractive all-wood interior.
Cost
The price of a bay window will vary according to size and materials. The range for a window 3-feet high by 6-feet wide made of vinyl clad with a 30-degree casement is between $800 and $1,100. For a custom window, an increase of 15 to 20 percent more is normal. Furthermore, custom windows will add up to six weeks for delivery versus an average of one week for standard size bay windows.
---
Stephanie Green is a writer with more than 10 years of experience. Her work has been published in various lifestyle and trade publications, covering parenting, gardening and human-interest stories. Green holds a Bachelor of Arts in English.