Once the purview of custom drapery houses, pinch-pleated drapes are now readily available, at prices for every budget. Typically, pinch-pleated drapes require a curtain rod equipped with a draw cord system, often bulky and usually expensive. Rings with clips have made it possible for any homeowner, equipped with a few handyman tools, to successfully hang fully functioning pinch-pleated drapes on rings with clips.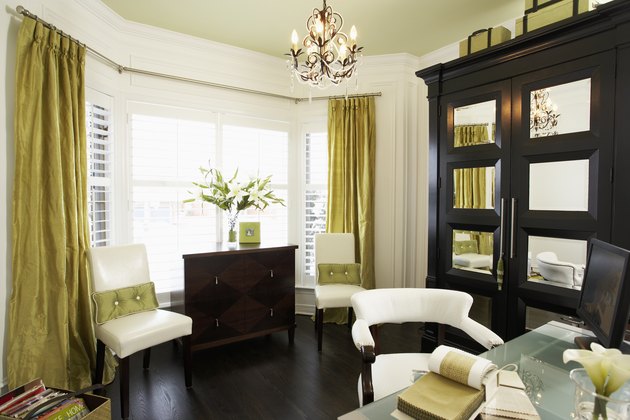 credit:
Jupiterimages/Photos.com/Getty Images
Step 1
Measure the length of the drapes from the bottom edge to the top of the drape.
Step 2
Measure the length of the ring and clip from the inside of the ring at the top to the bottom of the teeth of the clip.
Step 3
Count the number of pleats on the drapes and thread this number of rings, plus two for each panel, onto the rod. Ensure that the clips are all oriented in the same direction. Attach the finials to the rod.
Step 4
Add the length of the drapes, plus 1/4 inch, to the length of the ring and clip and hang the curtain rod is at this measurement, following the rod manufacturer's instructions to install the hardware. For example, if the curtain length is 86 inches and the clip and ring length is 2 inches, install the top of the rod 88 1/4 inches from the floor.
Step 5
Open the top of each pleat slightly by pulling the two outer folds away from each other, exposing the inner seam.
Step 6
Clip the ring to the top edge of the drape at the inner seam, inserting 1/2 inch of drape between the teeth of the clip.
Step 7
Clip one ring at the top of the outer edge side hem to complete the project.