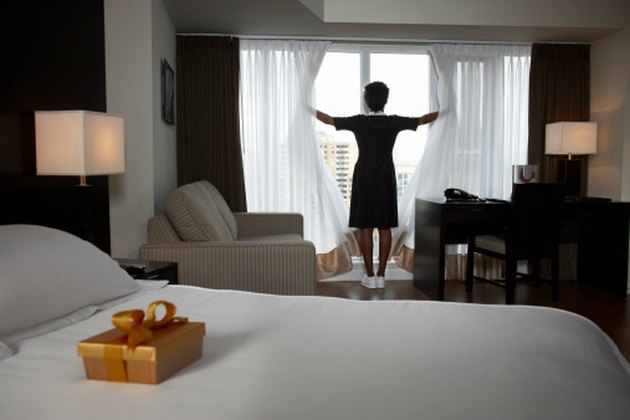 Curtains are fabric window treatments hung on a drapery rod by drapery pins or rings that open and close horizontally. Curtains are not lined. If lining is added, curtains become draperies. The type of lining used will affect the insulation value of the drapery, from little or no insulation to insulation that is as effective as hanging a quilt over the window.
Layering is the Key
The more layers of high-quality lining in a drapery, the better the insulation value. Custom-made drapery may have three or four linings that can, together with top treatments, rival the insulation factor of a 6-inch thick wall. Curtains can have removable linings attached at the ring or drapery pin, or additional drapery can be hung on separate rods to create a layered effect.
Blackout Lining
Blackout lining is a fabric that has been sprayed with acrylic or latex in two or three layers, on one side of a cotton or cotton blend fabric. This lining gives good insulating value and light does not pass through.
Flannel-backed Lining
One side of a cotton fabric is combed to create a flannelet-like surface. This fabric provides a medium insulation and allows some light to pass through. Good insulation is created by placing blackout lining between flannel-backed lining and the decorator fabric.
French Blackout
Heavy black flannel is placed between the decorator fabric and regular lining to create a full blackout, highly insulating drapery treatment.
Additional Considerations
Some drapery fabric is not washable, and blackout lining is not dry-cleanable. To solve potential laundering problems, install the layers on separate curtain rods. Adding layers to existing curtains will increase the weight of the coverings considerably.
---
Linda Erlam started writing educational manuals in 1979. She also writes a biweekly newspaper column, "Design Dilemmas," in the "Lakeshore News" and has been published in "Design and Drapery Pro" magazine. Erlam is a graduate of the Sheffield School of Interior Design and is a practicing interior decorator and drapery workroom operator.