A type of crocheting, latch hook makes rugs by pulling yarn through a canvas grid with a latch hook needle. The pattern is generally printed on the canvas grid, making latch hook a simple project for adults and children. Latch hook can be used to make a number of items in addition to rugs, such as pillows. Finishing a latch hook rug helps to ensure the rug holds up to the test of time, and it requires little more than rug binding and a sewing machine.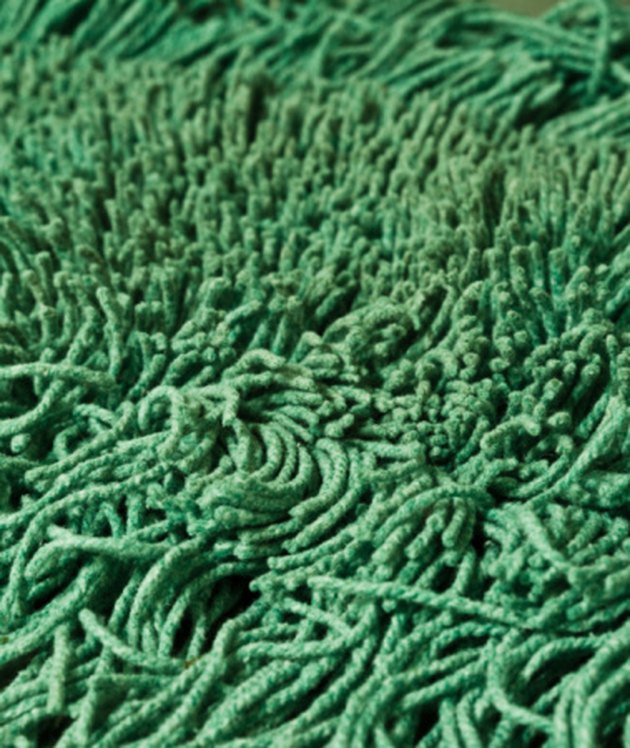 Step 1
Cut all of the edges of the finished rug, leaving two complete, empty squares all around. That should leave about 1/2 inch of the canvas grid on all sides. This space gives you room to attach rug binding.
Step 2
Secure rug binding to each empty canvas edge. Choose a binding that matches the color of the rug. Press the binding edge on top as close to the edge of the finished rug as possible. Use straight pins to secure the rug binding in place. Sew the binding to the canvas using a sewing machine. Then remove the straight pins. Cut a new strip of rug binding for each edge of canvas, and attach it in the same way.
Step 3
Attach the non-sewn end of rug binding to the bottom of the latch hook rug. Bend the non-sewn ends of the binding to the rug's bottom. Pin them in place with straight pins. Use a needle and thread to secure them in place with an overcast stitch. Remove the straight pins when all the ends are secured.