No-sew fleece blankets make great gifts, snuggly throws for dorm residents, and useful projects for donation to neonatal or residential care facilities. You can even make one for your pet's bed. The blanket requires simple measuring, cutting and knotting -- more attention to detail than skill -- and works as a satisfying craft for children as well as indulgent grandmas. Personalize a gift blanket with a meaningful fabric pattern, photo-printed fleece or even embroidery. The fleece washes and dries easily and wears well -- no sewing machine or elaborate knotting expertise necessary.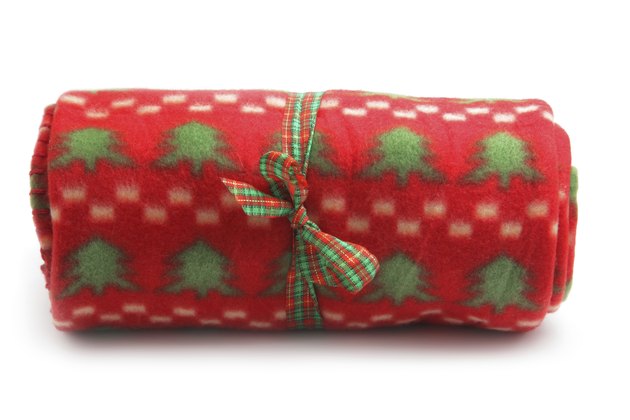 credit:
adisa/iStock/Getty Images
Step 1
Place two pieces of fleece on a flat surface, wrong sides together. You'll need about 1 1/2 yards each for a crib blanket or throw, 2 1/2 yards or more for a twin bed blanket. Trim selvages from both pieces, making sure the pieces are the same size.
Step 2
Smooth the trimmed, layered fleece flat, and pin the pieces together with dressmaker pins -- this in't necessary unless it makes working easier for you. Fleece tends to stick together.
Step 3
Cut a 4-inch square from the index card -- 5-inch square if you want longer fringe. This leaves you enough fringe to make good knots. Place the card stock square over each corner of the matched fleece and cut out the corners with sharp scissors or a rotary cutter.
Step 4
Lay a yardstick from one cut-out corner to another to use as a guide for cutting the fringe. Cut from the edge of the fabric to the yardstick at 1 1/2-inch intervals to make regular fringe strips -- 4 or 5 inches long -- all the way around the blanket. Be sure to cut through both layers of fleece.
Step 5
Begin knotting -- use your favorite fancy knot or just double-knot each pair of fringe strips. Go around the fabric, skipping every other doubled length of cut fringe. Then flip the fabric and repeat to finish knotting all the fringe. The blanket will flatten out better and appear more even when you alternate the fringe knots.