Things You'll Need
Masking tape

Drop cloths

Latex paint

2 1-inch nap roller pads

Paint roller frame

Paint tray

Comb

Sea sponge

Rubber bands (optional)
Tip
Some paint stores sell roller pads with built-in textures. You can use these for more distinctive textures than a standard roller will provide.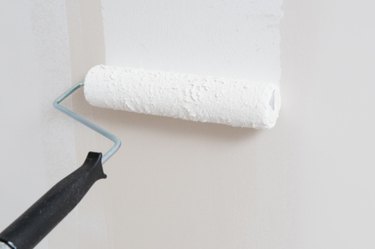 A light texture can help minimize minor flaws in your drywall but will not cover anything larger than slight incongruities in the surface. The effects on the room's sound and light will be greater, as even small amounts of texture can break up sound and light waves that hit the walls. This reduces glare and echo, making texture a good choice for home theaters, media rooms and any place you want to soften a room's atmosphere.
Step 1
Remove the furniture and accessories from the room you wish to paint and mask off the floor, trim and any electrical sockets or fixtures with masking tape and drop cloths.
Step 2
Choose any color of latex paint you wish to use on the room, even a new coat of the current color.
Step 3
Pour paint into a paint tray. Place a one-inch nap roller pad on a roller frame. Nap refers to the length of the roller's padding, and the longer the nap, the more texture the roller imparts.
Step 4
Thoroughly coat the roller pad and apply the paint to the wall, getting as close to the corners as possible. Always roll, rather than drag, the roller as you paint. Dragging will destroy the roller pad's natural texture.
Step 5
Refill the roller pad with paint frequently to ensure even texture. If the nap gets too matted down and begins rolling the paint too smoothly, fluff up the pad with a hair comb. Press lightly on the roller as you paint to avoid smashing the texture down with the roller. The texture is left as the fibers from the roller leave the wall unevenly, resulting in tiny peaks in the paint surface.
Step 6
Dampen a sea sponge, and then wring it out completely. Dip it into your paint and dab along the edges of the walls where the roller pad can't reach. This will continue the texture all the way into the corners, which painting with a brush will not do.
Step 7
Check the paint once it is dry. If the texture is still too light for you, wrap several rubber bands in random patterns around a fresh one-inch nap roller pad. This will increase the differences in texture as you apply another coat of paint.
---
Anne Hirsh has been writing and editing for over 10 years. She has hands-on experience in cooking, visual arts and theater as well as writing experience covering wellness and animal-related topics. She also has extensive research experience in marketing, small business, Web development and SEO. Hirsh has a bachelor's degree in technical theater and English and post-baccalaureate training in writing and computer software.