Things You'll Need
Acrylic paint

5-gallon bucket

Wooden stir stick
Tip
You may add any color of acrylic paint to epoxy paint. However, only add one drop at a time or you may end up with disappointing results.
Warning
Do not use oil-based paint to add tint to epoxy or it will ruin the paint.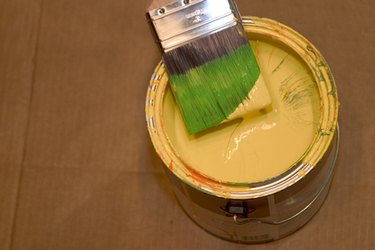 Epoxy paint is a two-component type of coating ideal for concrete and metallic surfaces. Although it comes in a variety of colors, many do-it-yourselfers prefer to subtly alter the shade of their epoxy by adding tint. If you would like to add tint to your epoxy paint, you can do so very easily and without spending a lot money. However, before you get started, you need to know the potential pitfalls that could cause you to unintentionally ruin the paint.
Step 1
Do not mix the epoxy paint with the catalyst.
Step 2
Pour the paint into the five-gallon bucket.
Step 3
Apply one drop of acrylic paint to the epoxy paint.
Step 4
Stir the paint for 10 minutes with a wooden stir stick.
Step 5
Repeat steps three and four until you reach the desired shade of color.
---
Ryan Lawrence is a freelance writer based in Boulder, Colorado. He has been writing professionally since 1999. He has 10 years of experience as a professional painting contractor. Lawrence writes for High Class Blogs and Yodle. He has a bachelor's degree in journalism and public relations with a minor in history from the University of Oklahoma.