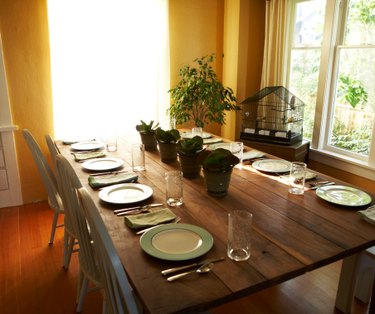 Tinted varnish is useful for altering the color of wood furniture to make it slightly darker. Craftsmen and hobbyists use the product to match a furniture piece with a darker item, to improve the appearance of wood, or to create special effects such as faux antique age spots. You can mix oil-based stain with oil-based varnish to make your own tinted varnish.
Step 1
Pour as much oil-based varnish as you need into a white paint tray. The light color of the tray allows you to see the exact color of the varnish as you mix.
Step 2
Add a few drops of oil-based stain to the varnish. Use a stain slightly darker than the current color of the wood. A dramatically darker shade will create a streaky, sloppy appearance, and a lighter shade will be invisible over a darker shade.
Step 3
Mix the varnish and stain together until the color is evenly distributed throughout the varnish. Continue adding stain a little at a time and stirring until you are satisfied with the tone. The varnish should always look translucent.
Step 4
Test a small amount of the toning varnish on an inconspicuous part of the furniture and let it dry. If you are satisfied with how the toning varnish looks on the wood, use the mixture on the entire piece. If you are not satisfied, mix more varnish into the toning varnish to thin the color or add more stain for a darker color.
---
Christina Sloane has been writing since 1992. Her work has appeared in several national literary magazines.