A simple coat of paint can take your bland kitchen from frumpy to fabulous. To get a high-quality paint job, you have to consider what your kitchen cabinets need, which is a good primer, the right paint and application method. New paint additives can also minimize brush strokes, so you'll spend less time painting and more time enjoying your new digs. Using the right paint, products and applications will make the process easier and transform your kitchen into the dreamy space you imagine.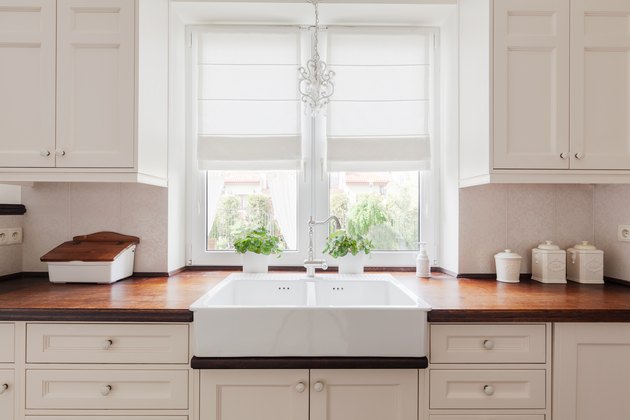 credit:
KatarzynaBialasiewicz/iStock/GettyImages
If your surface is glossy, bright white or cherry red, you'll want to take the time to prime. A light sanding will give the primer something to hold onto and lower the number of coats you'll need to finish the job. A resin-based primer also seals your surface, so odors and globs of oil or sauce don't seep through the paint and into the cabinet material over time. A good primer will make the job easier overall.
You'll want paint that can stand up to the activity in a typical kitchen. You'll also want an alkyd paint that can withstand scratches and bumps. Plus, it should dry to a hard finish. However, keep in mind that the shinier the paint, the more chips and scratches may show.
Latex satin finish is better than oil paints that can clump and drip. Also, if you're going for the trendy mirror look, full-gloss paint is ideal. If leaning toward a white kitchen, find an acrylic that guarantees not to yellow over time, such as Benjamin Moore Super White OC 152.
Best Application Method for Different Paints
A brush and roller offer the best control over the many nooks and crannies of kitchen cabinets. Work from top to bottom in even strokes, and you'll have a smooth finish with a personal touch. Fabric and foam rollers can leave a bit of an orange-peel texture. Spray guns are a potential problem, although they do get the job done quickly.
Consider the look you're vying for before picking a method. Sprayers atomize paint into a fine mist that can give a slick finish. Or you can buy a sprayer that uses high pressure, which gives you better precision in exchange for a higher learning curve. If you're hoping for a mirror-like finish minus the brush strokes, a sprayer may be the way to go.
You can use a paint additive, such as Floetrol, to minimize those brush strokes. It improves the flow of water-based paints so that they go on more smoothly. This reduces the look of fine brush strokes and roller marks for a smoother overall finish. They're perfect if you decide to use a spray gun because they help the paint to be less likely to clog and clump. While additives offer a faster, smoother finish, they may add to the dry time.
If your old cabinets are in good shape, put in the prep work, and you'll have a fairly easy time with a brush and roller. If they need a lot of sanding and caulking to fill dents and deep scratches, give yourself more time to prime and prep. The result will be a durable finish that will last for as long as you love the color.