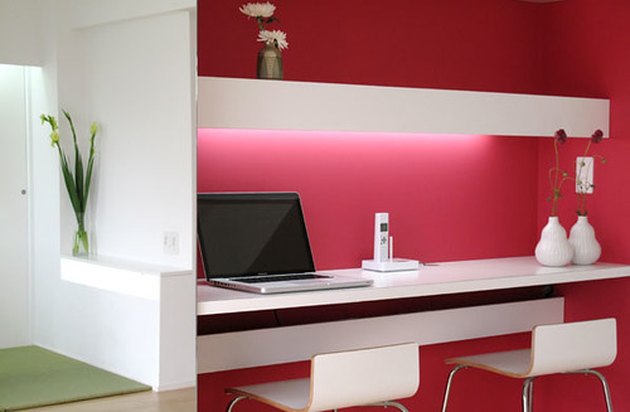 You've made the decision to paint the room. You even think you know what color you want it to be. Now it is time to purchase the paint. You decide to go to Lowe's for your paint products, but when you get there the choices are boggling. Two of Lowe's most popular paint lines are Olympic and Valspar. Which of these products will give you the best painting experience?
Product Claims
Valspar has the Signature Colors collection, which it considers to be its best interior paint. According to Valspar, it is durable, extremely scrubbable and stain-resistant; serves as its own primer, and covers in one coat.
Olympic calls its best paint Premium and claims superior scrubbability, great hide and coverage and excellent stain resistance.
Both say their product is easy to apply and covers about 400 square feet per gallon. Both mention that surfaces must be properly prepared before applying. So far, these products seem very alike.
Colors
Valspar's Signature line attributes its color choices to several designers. The lines include Martha Stewart, Eddie Bauer, Earth Elements, Laura Ashley Home, Seaside Retreat and Waverly Home Classics. It claims superior color definition because of its innovative paint technology.
Olympic boasts 1,200 colors in its Colors of Inspiration collection, in which it features Color Collection brochures that show colors in combinations in real settings. Both products have a paint online feature.
Finishes
Olympic Premium comes in four finishes: flat, eggshell, satin and semi-gloss. Valspar does, too, but it calls its flat paint matte.
Differences
Olympic Premium touts a zero VOC formula in this line ( VOC stands for volatile organic compounds), which makes it very environmentally friendly and low-odor. Olympic offers a 25-year warranty. It comes in 5-gallon, 1-gallon and quart sizes and is rated a Best Buy.
Valspar's innovative paint, whose trademark name is Advanced Ti3 Technology, is made with 100% acrylic resins. Although the Signature line claims to be its own primer, the company recommends using a tint-able primer if deep or vivid colors are being used or if a drastic color change is desired. Signature paints come in gallons and quarts only.
Considerations
Painting large areas that could use as much as 5 gallons of one hue makes Olympic's Premium a good choice. Usually 5-gallon pails are less expensive than individual gallons, and uniformity of color is assured. If the "greenness" of the product is important to you, consider the zero VOC formula from Olympic.
If you like the idea of following a particular designer's palette, then Valspar may be the answer. Otherwise, find the color you like within either product line and go with that product, be it Olympic or Valspar. Though the paint specialist can mix colors across product lines, there are subtle differences that occur when you jump from one to the other.
---
Debra Taylor is a freelance writer whose career experience includes owning an interior design business and a retail frame shop. She also taught elementary school and middle school language arts and has a Bachelor of Arts degree in early childhood and elementary education from Lander University. She continues to be involved with children in an after school program.