Things You'll Need
Mildew remover

Pressure hose (optional)

Space heater (optional)

Paint chipper or sandblaster

Trisodium phosphate cleaning solution

Concrete wall filler

Tape

Large paintbrush or roller

Primer

Masonry paint
Tip
Wear appropriate clothing, which can include a dust mask for protection from paint if using a sprayer.
Reliable Builder recommends brushes as the best method of painting, as spraying can result in a fine film of paint that can get on anything in your basement.
Warning
Make sure your basement is well-ventilated while painting.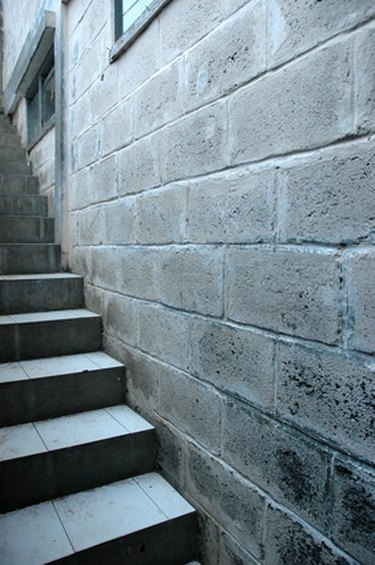 Painting your concrete basement walls not only helps protect your basement against mold, water, bacteria and mildew but also adds to the look of your basement, especially if you use it as a work or rec room. Proper painting of these walls requires the removal of any water and mildew before beginning as well as patching the walls to prevent to growth of mold.
Step 1
Locate any sources of moisture and correct the problem before starting your paint job. This can include ensuring that your home's downspouts empty to a drain tile and that the water is carried as far from your basement walls as possible. Dirt next to basement walls should be higher than any other ground within 20 feet of your basement, according to Mister Fix It.
Step 2
Remove any mildew with a mildew remover, following the product instructions. You may also use a pressure hose to remove mildew provided the water will easily drain from your basement. Use a space heater if necessary to dry out your basement. Do not attempt any painting until the walls are completely dry.
Step 3
Remove any loose paint on your concrete walls with a paint chipper or sandblaster if necessary. Clean the walls to rid them of dirt and debris. Reliable Modeler recommends wiping down concrete walls with trisodium phosphate cleaning solution.
Step 4
Fill in any cracks and holes with filler designed for use on concrete walls. Sand the filler down so that it is even with the wall.
Step 5
Tape areas you do not want painted. Apply a coat of primer to your walls, which will help the paint adhere to the walls correctly. You can apply with a roller or brush or spray it on. One gallon of primer should be enough to cover 200 square feet of wall space. Allow the primer to dry thoroughly.
Step 6
Paint your concrete walls with masonry paint. According to Reliable Builder, masonry paint is specifically designed for good adhesion, durability and breathability. Apply paint with a sprayer, roller or brush in even strokes. Paint should be about 1/8 inch thick to ensure waterproofing. Allow the first coat of paint to dry before applying a second coat.
---
Kent Page McGroarty has worked as a writer since 2006, contributing numerous articles to various websites. She is a frequent contributor to the health and fitness sections of the online magazine EDGE Publications and holds a Bachelor of Arts in English from Saint Joseph's University.