Things You'll Need
Drop cloths

Screwdriver

Putty knife

Electric sander

Coarse-grit sandpaper

Stiff wire brush

Steel wool

Mild detergent

Plastic scrubbing sponge

Bleach

Rags

Rust-proof metal paint primer

Rollers

Roller pan

Paintbrushes

Direct-to-metal gloss latex metal paint
Warning
Wear protective eye gear, a paint mask and gloves when sanding and cleaning.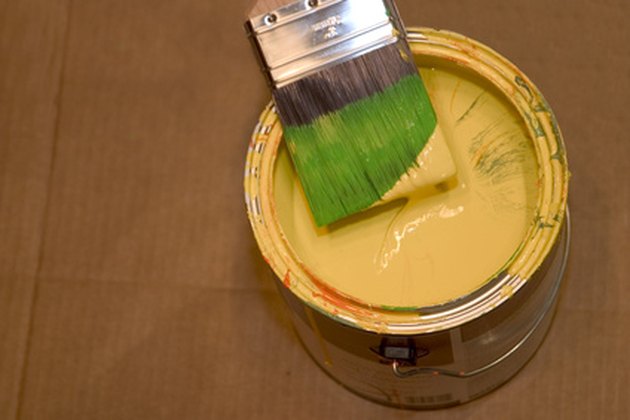 If you are tired of looking at your old chipped, peeled, drab metal kitchen cabinets, take a trip to the hardware store for a can of paint. Paint offers a fast, easy and inexpensive way to give any cabinets a quick makeover. Painting metal can be tricky, but with a little knowhow and the right products, you can give your kitchen a whole new look.
Step 1
Prepare a work place in a garage or carport that is roomy and well ventilated. If you must work in your kitchen, open the windows, turn on the exhaust fan and cover your floors and counters with drop cloths. Tape the cloths in place if necessary to protect your finishes.
Step 2
Remove as much of the cabinetry as possible from the walls. If you can remove the entire cabinets and shelves, do so. You can leave the doors and cabinets in place if necessary, but it will make the task more difficult and will take longer.
Step 3
Prepare the surfaces for painting. The better a job you do preparing the surface, the better the outcome will be. Scrape away as much of previous coats of paint as possible with a putty knife. Remove any remnants of paint or rust spots with an electric sander and sandpaper. Scrub stubborn or smaller areas with a stiff wire brush or steel wool. Give all of the surfaces you plan on painting an overall sanding, even if in good condition, to give the metal a "tooth" for accepting paint.
Step 4
Wipe away all dust and debris, both on your cabinets and on the counters and floors. Clean your metal well with a mild dish detergent and a rough plastic scrubbing sponge. Mix a solution of one part bleach to three parts water, and wipe your cabinets down with it. Allow the cabinets to dry thoroughly.
Step 5
Prime the surface with primer specifically made for painting metal, preferably one that is rust-proof. Paint metal cabinets with one coat of primer using a roller or brushes. Allow the first coat to dry for 12 to 24 hours and apply a second coat. Allow the second coat to dry 12 to 24 hours as well.
Step 6
Choose a paint specifically made for metal surfaces in the color of your choice. Apply a smooth, even coat of paint. Add a second coat if necessary. Allow the paint to dry thoroughly according to the manufacturer's directions. If the doors and shelves are still intact on the wall, leave them open while drying.
Step 7
Reattach the cabinets to the wall if necessary, being careful not to scratch the freshly painted surfaces. Wait two days before replacing shelf paper or putting heavy objects, such as dishes and canned goods, back onto the freshly painted shelves.
---
Mackenzie Wright has been freelancing since 2002 in the realms of writing, painting, photography, crafts and teaching the arts. Her writing has been featured in publications such as the "Saint Petersburg Times," "South Florida Parenting Magazine" and "Home Education Magazine." She holds a Bachelor of Arts in English and education.