You've done all the hard work of sifting through acres of colorful chips in the paint aisle to find just the right color. You've purchased all of the supplies you'll need to transform your space, either indoors or out, and are ready to tackle the big job of painting walls, trim or panels. But have you considered the time? Not simply the amount of hours that it will take to complete the project but what time is best to begin, and therefore successfully end, your paint project? There's definitely a right time and a wrong one to slap color on a wall.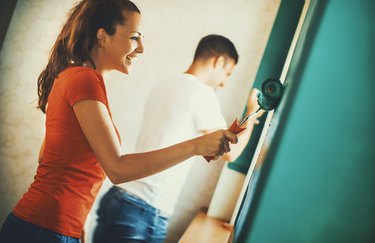 When to Paint Indoors
Painting a room is one of the cheapest ways to transform your space and make it your own. If you live in a humid area, make sure you adjust the drying time needed between coats, particularly if you are putting a rich color over a drab one, such as red over white. Open all the windows, whether it's cold or hot, to assist in getting the layer of paint to dry. Look for a humidity level between 40 and 70 percent for an ideal time to paint. If you are in a dry climate and using a sprayer, be careful it's not too dry or the paint may have problems sticking to the surface of the wall.
When to Paint Outdoors
If the trim is flaking and the color fading from the front of the house, a good paint job will perk up the curb appeal of a house overnight. Choosing that night for the paint to dry is key to getting a good coat on the home that will last a long time. During cold winter months, paint doesn't do well when it is being applied. It can clump up or take too long to dry and be prone to problems. A warm, dry day is the best time to paint the exterior of a home. Check the forecast to ensure that no rain is expected. Start early in the morning so that you have plenty of time to confront any unforeseen problems that may arise as you brush and roll away all day.
Tips for Painting
Use a small brush for cutting in around doors and windows and a separate brush for trim. Take your time with these areas and the rest of the job will go smoothly. When using a roller, apply paint on a large expanse of wall in a W shape. Then fill in the W as you continue to apply paint to the wall. This will cut down on streaks and thin spots. Face the open side of the frame of the roller toward the area that was recently painted to keep pressure on the roller steady.
---
Kimberley McGee is an award-winning journalist with 20+ years of experience writing for a variety of clients, including The New York Times, Las Vegas Review-Journal Home section and other national publications. As a professional writer she has researched, interviewed sources and written about home improvement, interior design and related business trends. She earned a B.A. in Journalism from the University of Nevada, Las Vegas. Her full bio and clips can be viewed at www.vegaswriter.com.
View Work