Whitewashing is one of those ideas that seems simple but has many layers once you get into it. When you want to whitewash interior brick -- a fireplace surround or an exposed brick wall, for instance -- you should begin at the end. Decide how much coverage you want on your brick, how little brick will be revealed by the white coating when you're done and, most important, how much work you are willing to do. Three different methods of whitewashing give you very satisfactory, if widely differing, results.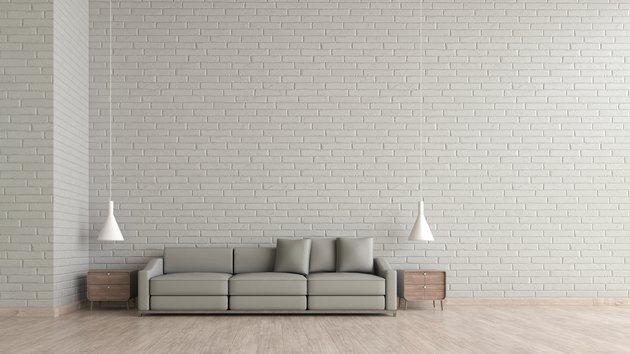 Light and Easy
This method is the easiest way to whitewash brick. Clean the brick surface to remove dust, soot and grease and provide a porous surface for your paint. Let the bricks dry so they will absorb the whitewash.
Mix powdered milk paint, natural and nontoxic, with water until it achieves the consistency of milk. Wipe the milk paint on the bricks with a paintbrush, brick-by-brick, and wipe some off with a damp sponge to leave an uneven film of white over the bricks. Experiment until you find the level of white you want.
Check the intensity of the white paint once your work dries and adjust the color by scrubbing off more paint with a wet sponge or by adding another thin coat of the watery milk paint.
Classic Limewash
This method requires hydrated lime powder. Lime wash is a mix of powdered, hydrated lime and water in approximately a 20 percent lime to 80 percent water ratio. It is a romantic coating, made from the ground coral and shells of ancient seas -- but its pragmatic value is that it covers well, is nontoxic and antibacterial, and is inexpensive.
Prepare the surface of the brick by cleaning it thoroughly. Put a painter's mask on to mix the powdered lime with water, to prevent breathing any airborne dust. Make a slurry the consistency of cream for thicker coverage, milk for thinner coats. Limewash will penetrate rough and porous brick while still allowing the brick to "breathe."
Dampen the brick and, as the water is absorbed and begins to dry, apply the first coat of whitewash. Continue to dampen sections of the brick as you cover the area to be painted.
Work multiple thin coats of whitewash into the brick, using a special whitewash brush or any good quality paintbrush. Keep blending the edges of the painted areas into each other to avoid any lines where one section dried out before the adjacent section could be covered.
Burnish the limewash into the brick with the paintbrush as you work, allowing the first application to dry before determining whether your coverage is transparent or opaque enough. Subsequent thin coats of whitewash will make the brick chalkier, smoother and whiter -- you may want limited coverage so some brick color and brick and mortar shapes show through.
Standard Paint
Bricks can be painted white (or another color if you prefer) with masonry or latex paint. The most important part is choosing a paint that is heat-proof, and masonry paint made for bricks is your best bet. (Do not use just any paint. Check all standard paint labels for heat-proof paint before you begin.) This method requires your bricks to be in good condition, and thoroughly cleaned. If you use any type of water-based cleaner, wait 24 hours or until the brick is completely dry before starting.
Use a latex primer as the base coat for your paint, filling in all gaps and open spaces. Once the latex primer is dry, apply a top coat of paint using rollers, brushes or a paint sprayer. If the brick is still too dark underneath your first coat, apply as many coats as needed to reach your desired shade.
Remember: Natural finishes such as limewash and milk paint will not "seal" the porous brick and can be washed to lighten them and make them very transparent. Brick will absorb whatever you put on it so think carefully before altering an unpainted brick wall or hearth.
---
Benna Crawford has been a journalist and New York-based writer since 1997. Her work has appeared in USA Today, the San Francisco Chronicle, The New York Times, and in professional journals and trade publications. Crawford has a degree in theater, is a certified Prana Yoga instructor, and writes about fitness, performing and decorative arts, culture, sports, business and education .