When you were younger, it may have seemed like there were two types of paint: The regular paint your art teacher gave you and watercolor paint. Now that you're full-on adulting, you may have realized that there are indeed many different types of paint. Even though it's already a lot to handle trying to figure out what color you want to use, figuring out what type of paint you need to purchase is not that difficult. You can save the frustration for another day when you need to look at various shades of beige, grey and white.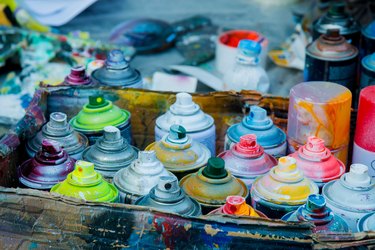 Water-Based Paints
Before you even start the hunt of what color you want, you need to figure out if you have to purchase a water-based paint or an oil-based paint. The majority of paint options that are sold in stores, though, is water-based.
If you're redecorating a surface that's already painted, make sure that the paint was not oil-based. If it is, and you try to use a water-based option over the top, the color won't stick. If you are trying to go from an oil-based painted area to a water-based painted area, all you have to do is wash the surface, then strip the paint using a medium to smooth sandpaper grit. This will allow the water-based paint to adhere to the surface.
Although oil-based paints are super popular for woodwork, doors, floors and furniture, water-based paints have a ton of advantages. Not only do they have low levels of toxic emissions, they're quick-drying and resistant to cracking. Plus, if you spill the paint, it can be cleaned up with water. And the color will stay the same over time, so say goodbye to pesky yellowing paint jobs!
Oil-Based Paints
Some people prefer the look of oil-based paints, though, because they have a more high-shine gloss and a durable finish. Also, when you paint on a surface, the oil-based option creates a smoother look.
If you want the oil-based look, but prefer water-based paints, you can purchase a product called "waterborne enamels" or "waterborne alkyds." They have the same look and feel of an oil-based paint but are water-based.
Different Types of Paint Finishes
The different types of popular finishes are matte, eggshell, satin, semi-gloss and gloss. People love to use matte paint if they don't like the glossy look. It has a velvety texture that has a great color payoff. Even though this paint is exceptional at hiding imperfections, it can be difficult to clean. People often use eggshell and satin paint in the kitchen, bathroom and kids' rooms because it's straightforward to clean. This type has some gloss, but it doesn't have a high sheen. If you want a high-sheen look, you're going to want to go for semi-gloss or gloss paints. Semi-gloss and gloss types of paint are a statement varnish, but it shows imperfections the most. Choosing the best sheen comes down to what you're looking for, as well as what you can keep up with in regards to damage and cleaning.
---
Allanah Dykes is a freelance writer and her work has been featured on Elite Daily, Levo League, Popsugar, Complex, Gurl, The Kitchn, HelloGiggles, Revelist, and Food 52.
View Work