Things You'll Need
Stepladder

Phillips-head screwdriver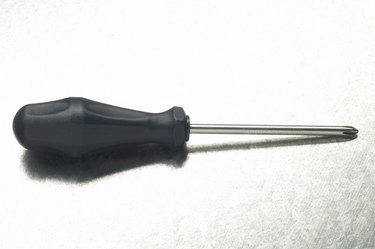 Track lighting uses several pieces of pre-wired channel tracks that lock together and attach to the ceiling. Replacing track lighting with a different fixture requires disassembling of the channel track pieces. The tracks are held to the ceiling with screws that are out of sight, adding to the clean look of the track lighting. Most bulb fixtures within the system move freely up and down the track. For this reason, the bulb fixtures do not require removal when taking down the track assembly.
Step 1
Turn off the circuit breaker to the track lighting fixture. The circuit breaker could control all the power in the room or just the fixture. Turn on the fixture light switch to ensure the power is off.
Step 2
Set up a stepladder under the track lighting fixture. Inspect the track layout closely, looking for seams between the individual pieces of track. Locate the individual track on either end of the fixture.
Step 3
Remove the screws attaching the track to the ceiling with a Phillips-head screwdriver. The screw heads are in the center of the track. Pull the outermost track away from the adjacent piece of track. The tracks slide into each other.
Step 4
Repeat the process of removing securing screws and disassembling track pieces until there are only pieces of track inserting directly into the track light housing.
Step 5
Locate the screws securing the housing cover to the fixture, and remove the screws with a Phillips-head screwdriver. Pull the cover away from the housing. Untwist the plastic wire caps connecting the house junction box wires to the track lighting wires. Detach the wires and twist the wire caps over each individual house wire.
Step 6
Find the screws attaching the track lighting fixture housing to the the junction box, and remove the screws with a Phillips-head screwdriver. Pull the fixture away from the ceiling.
---
Kenneth Crawford is a freelance writer with more than 10 years of experience. His work has appeared in both print and online publications, including "The American Chronicle." Crawford holds an associate degree in business administration from Commonwealth College.