Picture frame molding is decorative molding installed on the wall in square or rectangle shapes, much like picture frames. Instead of a picture inside, only the wall is in the center allowing you to dress it up or let the molding stand out on its own. Transform your dining room from an ordinary room into an elegant, formal space to entertain friends and family or enjoy an intimate meal with your loved one in a sophisticated setting. Picture frame molding can be added to your dining room for a more elegant look, whether you use one or two colors.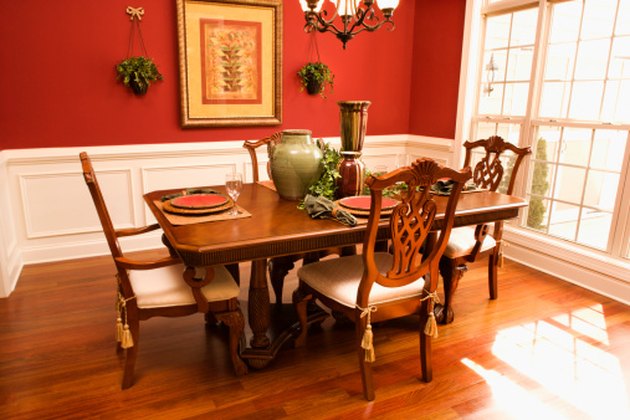 Step 1
Sketch a rough draft of your design on paper so you can easily and inexpensively make necessary changes to your design. Decide if you want to add a chair rail -- which goes around the room about 32 inches above the floor -- and if you want to use a single color, two colors and if you want the picture frame molding to go on the top portion of the wall, the lower portion or both.
Step 2
Draw on the walls where you want to place the picture frame molding to see if you like the result. If not, repeat the process until you find a pattern and size that suits you.
Step 3
Paint the walls and molding. Common color schemes include white with red, blue, yellow, tan or gray. For example, paint the lower portion of the walls, the chair rail and picture frame molding white with a different color above the chair railing. The picture frame molding can blend into the lower portion or stand out on the higher portion.
Step 4
Install the picture frame molding using construction adhesive and nails. Use a nail gun to make the job simpler and give you more precision.
Step 5
Add accessories around the room that complement the architectural detail of the picture frame molding, such as similar frames to hold artwork on the walls if you install the molding on the bottom of the walls. Use similar colors in your table linens, dishes or centerpiece.