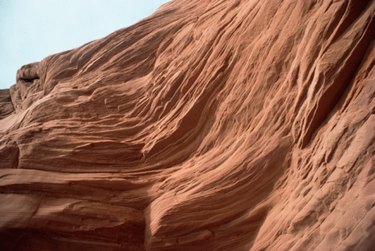 Sandstone, a naturally made stone, has properties that make it ideal for everyday use both in the home and outdoors. It can withstand the demands of the elements and time, as it is created due to heat and pressure. Sandstone works in every room of the house and every corner of your outdoor landscape.
Indoors
Sandstone can be used to create counter tops for kitchens, vanities, bathrooms or floors in any room of your home. When cut into tiles, it can cover a bathroom wall or be used as a backsplash in your kitchen. Flower vases and other decorative containers can be made of sandstone as well. In addition, you can find candle holders, jewelry boxes and picture frames made of sandstone.
Outdoors
Sandstone is used in the building of homes and outdoor structures, as well as gates or as support for columns on porches. It can be used to build outdoor ovens, fireplaces, patios or porches, retaining walls and walkways. You can find outdoor furniture, such as garden benches or patio tables, made of the material. Sandstone is also used to make water fountains, garden planters and troughs, as well as urns and outdoor lighting fixtures.
Art Uses
Sandstone can even be used to create works of art for both inside the house and out, such as animal figurines or statues for the yard. It can be used to design garden balls for placement on pedestals (also made of sandstone.) Sandstone can be used to surround a work of natural art prominently displayed outdoors, such as a prized rose bush or other flower in your garden.
Additional Uses
You can build your dog's house with sandstone, make a bird bath with it, create a sandstone mailbox or line walkways or landscaping around your home with it in stepping stone sizes. You can use it to make shelves for your garage or home office, and you can even put it on your roof. Luxury Stone Imports promotes it for pool coping use, since it is highly resistant to salt.
---
Holly Huntington's writing has been published online by eHow.