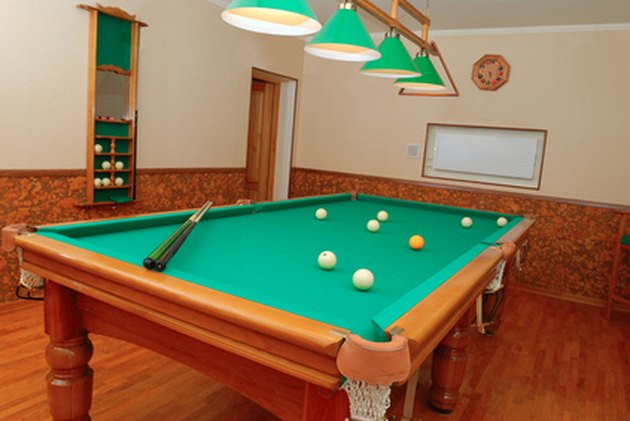 Refinishing your basement is a great way to get the most out of your house, but basements are often plagued by low ceilings. Excavating your floor is a possibility, but it is also a major undertaking. Fortunately, there are several decorating techniques and simple renovations that can help you enjoy your low-ceiling basement to the fullest.
Relocate Ducts
Many basements have ducts and pipes running through them, reducing available ceiling height. You can decorate the ducts to make them more attractive, but you'll still have to deal with an obstructed room and cramped ceiling. Fix the problem by rerouting the ducts so that they run along the outside of the room. Install shelves below the ducts to make good use of the cramped edges of the room. Alternately, build a closet along the edge of the room with the duct to hide it entirely and create more storage space.
Horizontal Decorating
Use horizontal objects and decorations to draw attention away from the low ceiling of the room. Wide landscape paintings, wallpaper with horizontal stripes and accent lighting in narrow, horizontal lines will pull the eyes along the vertical axis, making the ceiling seem less cramped. For your main light, use sconces arranged around the room in the middle of the wall rather than overhead lighting, which draws the eyes up to the ceiling. If you have a basement window, use a horizontal mirror on the opposite wall to reflect the sky from it. The image will create the illusion of extra daylight, making the room seem more open while helping to obscure the lowness of the ceiling.
Low Design
Use low furniture to create the feeling of a more spacious ceiling. Use coffee tables, low-backed chairs and squat table lamps instead of ceiling-to-floor lamps. Lower the height of doorways by a couple of inches to help reinforce the illusion of a higher ceiling.
Paint
Finish the basement ceiling to cover the joists and paint it with high-gloss paint. The ceiling will take on a vague, semi-reflective look that will make it harder to see and, consequently, less oppressively low. Use a bright color for molding and other trim, and pale colors or white for the rest of the wall. This will draw the viewer's attention away from the ceiling, since it will be the least bright and defined region of the room.
---
Isaiah David is a freelance writer and musician living in Portland, Ore. He has over five years experience as a professional writer and has been published on various online outlets. He holds a degree in creative writing from the University of Michigan.