For most home owners, storage space is always an issue. Whether you are trying to find a place for extra clothes, shoes or books, lack of storage space will undoubtedly cause a problem. While clothes or shoes would be easy to get rid of, books may be a little more difficult to part with. You may have favorites you love to read over and over again or perhaps some were passed down from generation to generation. Whatever the case, building a bookshelf directly onto the wall will help to solve your book storage problem.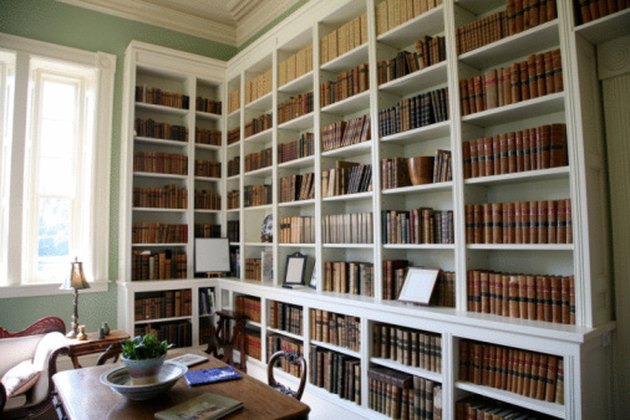 Step 1
Choose a room and a wall to house your bookshelves. While you may not have the option of placing your bookshelves in a room specifically dedicated to reading and studying, try to select a room that would offer the most privacy and solitude (i.e. bedroom, den, etc.). If you want your bookshelves to be a focal point in the room, choose the wall that will catch your eye when you first enter the room.
Step 2
Paint the area where the bookshelves will be placed. While this is not a crucial step, it will help to visually unify the space. If the room's walls are light, paint the shelf housing area with a dark color. If the walls are dark, lighten up the shelf space with a white or beige color. Allow paint to dry thoroughly.
Step 3
Attach the shelves to the wall mounting brackets. Use a drill to screw the brackets to the underneath side of the shelves. Place a level atop each shelf before using the drill to attach it to the wall. Repeat this step until all shelves are attached. Dust off the shelves and use a multipurpose cleaner to remove any fingerprints you may have left.
Step 4
Add books to the shelves. Use bookends to prop up books on each end of the shelves. If you have any extra space that is not occupied by books, add knickknacks or photos of your family.