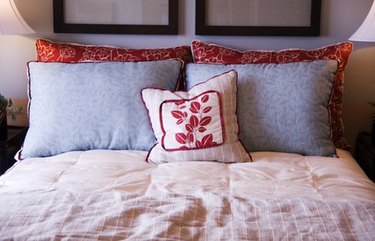 The garage can be the answer for a teen who wants his or her privacy or an invited guest who needs a place to lay their head. Conversion of a garage into a bedroom is a less complicated task than adding a new addition to your home due to already having a foundation, framing and roof. Always check your local laws concerning permits and hire licensed contractors for any electrical or plumbing additions.
A Rough Room
Use a garage theme. Start with resolving any wiring issues, including increasing the number of electrical outlets and overhead lights. Replace the overhead door with locking barn-style doors. Cover the wall framework with pegboard. Use indoor/outdoor type carpeting in a gray or black shade. Hang clean and shiny auto parts on the walls and from the rafters. Use mufflers, engine fans, tire hubs, rotors, pistons and any other small engine parts. Include auto mirrors, bumpers and even doors, hoods and trunks. Keep furniture simple. Use a metal or flat black platform bed and metal tables. Use black or dark gray bedding or choose a bed covering embellished with flames or cars. Use shelving designed for workspaces to hold entertainment equipment and clothing. Use an old metal desk for computer or homework needs.
A Sunny Guest Room
Create a guest room with a view by removing the garage door. Replace the garage door with french doors surrounded by glass: fill up one quarter of the removed door space with pane glass on each side of the doors. Add a drop ceiling in white or beige to cover the rafters. Insulate the walls and cover with drywall. Paint the walls with a flat, light colored paint. Choose pale yellows, peach or very light greens and blues. Lay a plush carpet in a complementary, but darker color than the walls over thick padding. Select draperies that will completely cover the window and doors. Use thick fabric to ensure privacy. Use delicate or classic furniture. A four-poster bed in white or a sleigh bed works well for this look. Place small tables painted white on each side of the bed and use clear glass or ceramic lamps. Decorate the walls with simple pictures and small wall hangings.
Dual Purpose
Teenagers will appreciate a garage converted into a dual-purpose bedroom. Remove the garage door and have the area filled in with wood and siding to match the rest of the home. Insulate and cover the frame walls with paneling or wallboard. Lay thick black shag-type carpet. Use plain metal or flat black tables for entertainment equipment. Hang speakers in the corners and put a television on a wall mount. Instead of a bed, use a futon and place bean bag chairs all around the room. Paint a traditional bureau black for clothing storage. Replace the original overhead lights with theater or track lighting that can have colored filters attached. Decorate the walls with music- or hobby-related framed posters.
---
Sidney Johns began her writing career in 1993 after moving to Florida. The former teacher and surgical technician worked in the home improvement industry prior to earning a Bachelor of Science in education from Indiana University. While on hiatus in 2004, Johns studied holistic healing and organic growth and gardening.