Pom poms are fluffy balls made out of varying material, usually paper or fabric. They come in any size and are commonly found decorating rooms for baby showers or weddings. Larger pom poms are used by cheerleaders as they cheer on their team. You can use pom poms in many ways to decorate a room, giving texture and color to the decor. Choose your pom pom attachments carefully by considering the size and weight of the pom poms if you want to hang them from the ceiling.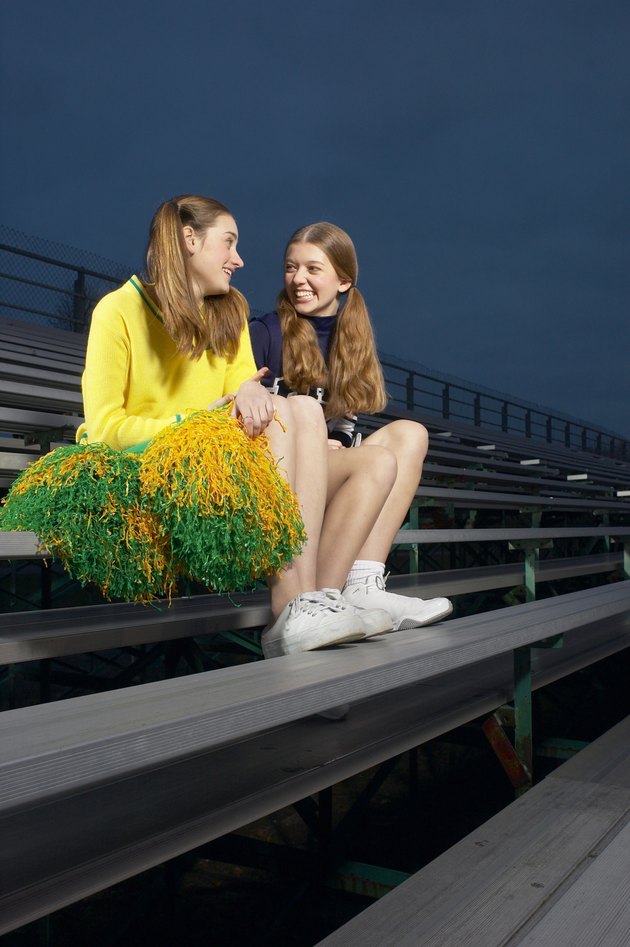 Step 1
Attach light tissue paper pom poms to the ceiling using double-sided tape, poster adhesive strips or poster putty. Poster adhesive strips are like double-sided tape, but are thicker and larger.
Step 2
Stick self-adhesive hooks to the ceiling so the hook hangs down. Use these for medium-weight pom poms, such as small to medium fabric ones. Peel the back off the adhesive hooks and stick them to the ceiling where you want to hang the pomp poms. Quality adhesive hooks are designed for easy removal without leaving marks.
Step 3
Screw hooks into the ceiling for heavier pom poms, such as the full-size pom poms cheerleaders use. Pick a location carefully because these will leave holes in the ceiling. If your ceiling is not solid, you may want to use hooks with anchors that spread out in the opening to help support the pom poms.