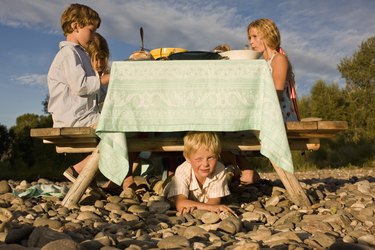 You may not be able to control the wind during a picnic or an outdoor dining event, but you can control the tablecloth. Instead of relying on plates and pitchers to keep the cloth in place, which may prove disastrous during a gust of wind, make your own tablecloth clips from binder clips or C clamps, readily available from office supply and hardware stores, respectively. Paint or decorate the DIY clips any way you like, tailoring them with specific colors or seasonal themes for your festive outings.
Pre-Project Preparation
Before making the clips, measure the thickness of the table edge you plan to use with a tablecloth; you may have to take a trip to the park to measure a picnic table, if you don't have one of your own. Write down the measurement; then purchase binder clips or C clamps that open wide enough to fit the table edge with a little room left over. Purchase eight to 12 clips, so you'll have enough to place a clip every 2 to 3 feet on a large table.
Paint Perk-Up
Instead of leaving the clips or clamps in their original colors, spray paint them. Choose a color that coordinates with the tablecloth or that suits just about any warm season, such as orange, yellow or green. Scuff the paint up gently on each piece with fine-grit sandpaper; then wipe the dust off with a rag. Set the pieces near one another on a sheet of newspaper outdoors; shake your spray can; then paint a line across each piece with each burst of paint, overlapping the bursts slightly with each pass. Once the paint dries, flip the pieces over and paint the other side.
Festive Fabrics and Printed Patterns
If you prefer a patterned finish for your tablecloth clips, decoupage strips of decorative fabric around the binder clips or the C-clamp frames. Use decoupage medium or a thinned white glue to coat each fabric strip; then smooth them onto the binder clips or wrap them around C-clamp frames. Pieces of patterned washi tape or duct tape provide a mess-free way to embellish the black portions of binder clips.
Clip-Based Tablecloth Weights
If you'd rather make clips that can be used on any table, any time, create your own clip-on tablecloth weights that secure to the dangling edges of the tablecloth rather than to the table and cloth. Purchase sturdy alligator clips or lanyard clips; then tie 10 inches or so of fishing line through the hole opposite the jaw. String weighted glass or stone beads along the fishing line, using a pendant or painted fishing sinker as the weight at the bottom.
---
Kathy Adams is an award-winning writer. She is an avid DIYer that is equally at home repurposing random objects into new, useful creations as she is at supporting community gardening efforts and writing about healthy alternatives to household chemicals. She's written numerous DIY articles for paint and decor companies, as well as for Black + Decker, Hunker, SFGate, Landlordology and others.
View Work