Things You'll Need
Paint roller

Plastic loop roller

Bucket

Joint compound

Taping knives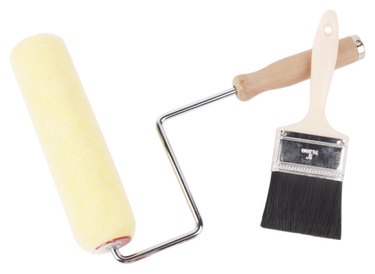 Daily life has a tendency to wear down walls in the home. With time, wall imperfections are bound to show up. Or if you are doing renovations in the home, such as the garage, the walls may not be in the best of condition. Sometimes, if your home isn't new, the previous owner may have botched up wall repairs that are blatant. Knockdown texture is a good way to conceal imperfections on a wall.
Step 1
Cover an ordinary paint roller with a plastic loop roller. You can buy this type of roller at your local hardware store.
Step 2
Fill a bucket with joint compound, then take a plastic taping knife and spread joint compound all over the plastic loop roller.
Step 3
Apply joint wall compound to the surface of the wall, creating a layer of compound 1/8 inch thick. Start by rolling in a straight up-and-down motion, beginning at the top of the ceiling and working your way down. Work with a gentle pressure as you roll the compound on the wall. Alternate directions as you roll, going from up-and-down to left-to-right to ensure that you have a good layer of compound on the wall. Work in 3x3-foot section at a time.
Step 4
Allow the compound to set and dry. The longer that you allow the texture to dry, the more knockdown texture you will achieve.
Step 5
Position a 10-inch taping knife at a slight angle on the dried compound and gently slide down to knock off the peaks in the dried compound.
Step 6
Prime the wall then apply paint.