Whether you have lived in your home for years or are just moving in, you may find that the desire to remodel is a powerful one. Careful planning will provide you with a pleasant environment and help preserve the value of your double-wide mobile home.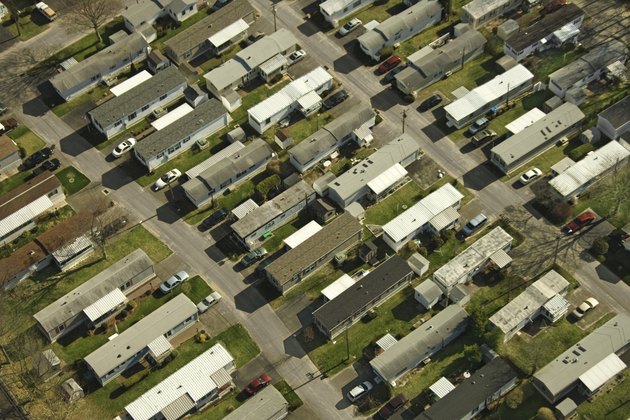 credit:
Thinkstock/Comstock/Getty Images
If your walls are covered in a decorative paneling instead of drywall, you can instantly have a more elegant appearance in any room by refinishing the paneling to appear like finished drywall.
Cabinetry in the kitchens and baths of many double-wide mobile homes is often constructed of a compressed wood product. Unfortunately, these cabinets quickly show wear. Although the cabinets may withstand everyday use for many years, their appearance can be most annoying. A simple facelift will provide you with attractive cabinetry with easy-care qualities.
Step 1
Remove all of the paneling trim work at the seams.
Step 2
Remove all protruding nails or screws in the wall panels.
Step 3
Llightly sand the surface of the paneling with a power sander.
Step 4
Cover the gaps with drywall tape and compound, following the manufacturers instructions.
Step 6
Apply a thin topcoat of drywall compound over the wall.
Step 8
Lightly sand the wall for a smooth finish.
Step 9
Paint the walls with a flat or semi-gloss wall paint using colors to work with your decorating scheme.
Resurfacing kitchen cabinetry
Step 1
Remove hardware from cabinets, doors and drawers.
Step 2
Clean all cabinet surfaces, fill in any visible pits with wood putty. Allow putty to dry.
Step 3
Sand cabinet surfaces and areas repaired with wood putty, cleaning all dust and residue from cabinet surfaces.
Step 4
Apply paint tape and newspaper or drop cloth to protect walls and floor.
Step 5
Paint cabinets, doors and drawers with a quality, oil-based enamel or epoxy paint according to manufacturers instructions. Allow the paint to dry for 24 hours before re-installing hardware and doors.