Things You'll Need
Power sander and sandpaper refills

Screwdriver

Drywall tape

Drywall compound

Wood filler putty

Painting tape

Newspaper or drop cloths

Soft-bristle paint brush

Paint roller

Paint roller pan

Flat or semi-gloss wall paint

Oil-based paint
Tip
New carpet or flooring gives every room an instant and dramatic impact for a newer looking home. Choose a grade of carpeting that is durable, avoid the cheap FHA-grade carpets that are thin and will soon look old and worn. Laminate flooring is easy to install on your own and provides the warm appearance of hardwood flooring. Look for the best values from a flooring liquidator.
Warning
As the owner of a double-wide mobile home you must weigh the costs of remodeling with the value of your mobile home. Even double-wide mobile homes set on private property will depreciate, as manufactured homes do not appreciate in value like "stick-built" homes. You may have a desire to add granite countertops, but granite will not add value to your home in the same way as it would a standard home. You may be better off choosing a lower-priced countertop material that will provide you with the same dramatic appearance. If you decide to use granite, then you must either plan on living in the home for a very long time or be willing to take the financial loss should you decide to sell your double-wide home.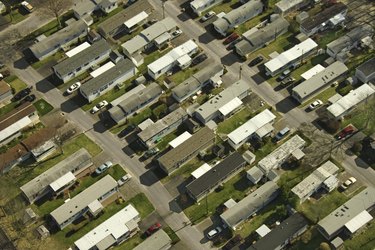 Whether you have lived in your home for years or are just moving in, you may find that the desire to remodel is a powerful one. Careful planning will provide you with a pleasant environment and help preserve the value of your double-wide mobile home.
If your walls are covered in a decorative paneling instead of drywall, you can instantly have a more elegant appearance in any room by refinishing the paneling to appear like finished drywall.
Cabinetry in the kitchens and baths of many double-wide mobile homes is often constructed of a compressed wood product. Unfortunately, these cabinets quickly show wear. Although the cabinets may withstand everyday use for many years, their appearance can be most annoying. A simple facelift will provide you with attractive cabinetry with easy-care qualities.
Resurfacing wall panels
Step 1
Remove all of the paneling trim work at the seams.
Step 2
Remove all protruding nails or screws in the wall panels.
Step 3
Llightly sand the surface of the paneling with a power sander.
Step 4
Cover the gaps with drywall tape and compound, following the manufacturers instructions.
Step 6
Apply a thin topcoat of drywall compound over the wall.
Step 8
Lightly sand the wall for a smooth finish.
Step 9
Paint the walls with a flat or semi-gloss wall paint using colors to work with your decorating scheme.
Resurfacing kitchen cabinetry
Step 1
Remove hardware from cabinets, doors and drawers.
Step 2
Clean all cabinet surfaces, fill in any visible pits with wood putty. Allow putty to dry.
Step 3
Sand cabinet surfaces and areas repaired with wood putty, cleaning all dust and residue from cabinet surfaces.
Step 4
Apply paint tape and newspaper or drop cloth to protect walls and floor.
Step 5
Paint cabinets, doors and drawers with a quality, oil-based enamel or epoxy paint according to manufacturers instructions. Allow the paint to dry for 24 hours before re-installing hardware and doors.
---
Cynthia Clark began writing professionally in 2004. Her work experience includes all areas of small-business development, real-estate investments, home remodeling and Web development. Clark is skilled in a number of design disciplines from digital graphics to interior design. Her diverse background and commonsense problem-solving skills allow her to tackle a variety of topics as an online writer.