Tarnish causes metal hardware to look worn and tired. If you have noticed that your dresser handles are looking dark and dull, take the time to remove the tarnish. Use a simple paste to remove the tarnish safely and without scrubbing. Clean your old dresser handles and remove all the tarnish that prevents your furniture from looking its best.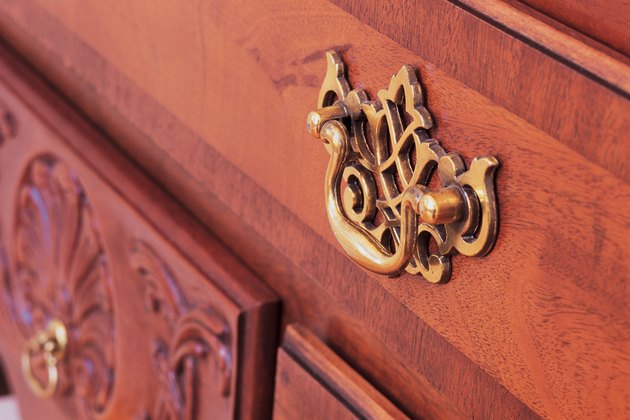 Step 1
Remove the dresser handles by unscrewing them from the dresser doors with a screwdriver.
Step 2
Mix equal amounts of salt, white vinegar and flour in a bowl, creating a paste; 1/4 cup of each ingredient is enough for one piece of furniture.
Step 3
Spread newspaper over your working area.
Step 4
Brush a thick coating of the paste onto the drawer handles using a toothbrush.
Step 5
Set the drawer handles on the newspaper to dry overnight.
Step 6
Rinse the paste away under cool water. The tarnish will be gone.
Step 7
Pat the drawer handles dry with a soft cloth and reattach to the dresser.