Grapevines are a natural material used for making many different decorative accents. From wreaths to balls, grapevines are easy to use and can be enhanced with any material you choose. Using grapevine balls in various places throughout your home's decor gives you a base design that can be changed according to your needs. They can also be decorated for holidays and special events, as well as being used for table decorations or natural room decor.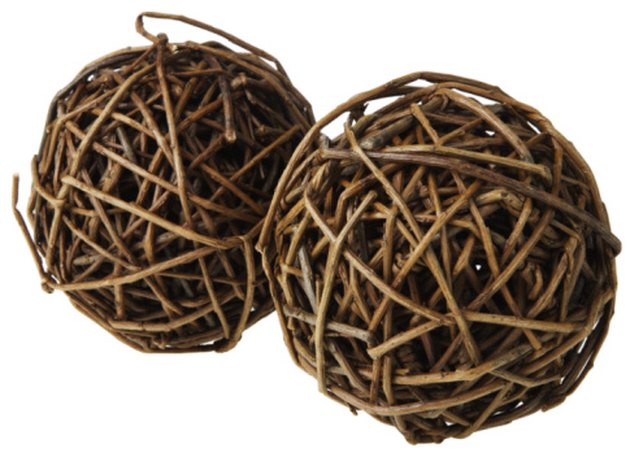 Step 1
Cut pieces of twine in various lengths. String each through one section of ball and tie the ends into a knot. This is so that you can hang the balls from trees or porches at different heights.
Step 2
Wrap a string of lights around each ball. Make sure to pull the string through the center of the ball, allowing some of the lights to remain inside. Twist the plug end of the light string around the twine so that it rests at the top of the hanging loop. Repeat for each ball.
Connect the balls of lights with an additional string of lights. Hang from tree branches or porch gutters.
Step 3
Cut the dowel into various sizes, at least 6 inches in length. Fill a terra-cotta pot with river rocks and insert one longer dowel into the center. Place hot glue on tip of dowel and about 1 inch down from the top. Insert a medium-size grapevine ball onto dowel and hold until set. Place a smaller dowel on top of the ball and hot glue it into place. Coat the top of the dowel with hot glue and put a smaller ball into place on top. Hold until set.
Step 4
Paint the dowels either brown or green. Use hot glue to attach moss to the grapevine balls so they are covered. Attach silk and dried flowers to each ball, again using hot glue. When completed, use the new grapevine topiary as a centerpiece for a dining table or as a mantel or table decoration for the holidays.
Step 5
Fill a wicker basket full of various sized grapevine balls. Add dried flowers, pine cones and silk flowers to the basket and place on a table, next to a fireplace or on a porch as a seasonal decoration.