The big, wide, cold, cruel world has no place in your bedroom, especially when winter chill seeps into your bones. Create a cozy retreat that will welcome you with its warmth and soothe you with creature comforts to help while away the dark hours. Cozying up the bedroom works even for a cavernous, echoing space that feels like anything but a womb. You can do it with or without chintz, but colors, lighting and fabrics are key.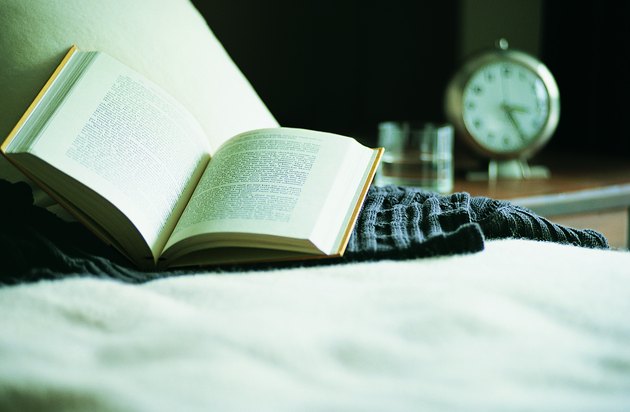 credit:
Digital Vision./Photodisc/Getty Images
Cozify your bedroom with printed flannel sheets. At first, the concept might be a shocking departure from your pristine white bedding. But get into mixes of softer and deeper shades like Confederate blues, magentas and orchid plaids, or an assembly of grays, or a switch-off of solid mushroom, moss and taupe tops, bottoms and pillowcases. Velvet rules for opulent pampering, but opt for faded, distressed velvet pillow shams, bedspreads and puddle-on-the-floor curtains that come with character as well as tactile luxe. Linen bedding wears into snug, durable comfort. Unbleached linen, cream, pale gray or deeper saturated colors are a feast for the eye and the skin.
Pile up comforters, pillows, drapes over shades, rugs upon rugs; you want nothing stark, unvarnished or echoing to dispel the sense of cozy. The summer sisal mat that covers scarred wood floors in your rental apartment is toasty underfoot with a fluffy sheepskin or flokati tossed over it next to the bed. The bed itself is a tropical island amidst the ice floes when the sheets are topped by a Hudson blanket or lofty duvet. Drape a fake fur throw casually over the foot of the bed. You can never have too many pillows. European squares, king and standard bed pillows, decorative pillows with ruching, embroidered brocade covers, trim and tassels, floppy vintage velvet pillows -- all of them invite you to curl up in bed with a good book.
All light bulbs should emit warm, not cold bluish-white, light. Stick to low ambient lighting rather than overhead illumination. Bedside lamps should turn from low to reading light or be dimmable. A flickering candle in a safety hurricane adds romance on a dresser or mantel; just be sure to extinguish it before you drift off to sleep. Twinkling fairy lights draped across the headboard, hanging down like starfall in the bed curtains or crisscrossed over the ceiling, are mysterious and magic. A silk scarf arranged over a lamp softens and filters the light through its colors.
Paint bedroom walls a vivid hue from the warm color spectrum. Chili pepper red, cinnabar, rust, deep rose, gold and apricot reflect flattering light on your pale, drawn features and work their magic to heat things up. Add chintz accents for English cottage coziness; chintz drapes are elegant and unfussy, and chintz bedding hints at other colors to use as accents. If you upholster a slipper chair in chintz, add a deep floor-length ruffle beneath the seat. When you can't paint the walls, a chili-colored bedside rug, velvet bedspread, or parchment lampshades give your winter cave a glow.