Things You'll Need
Nails

Hammer

Staple gun

Track lighting

Vintage ice skates

Glass display coffee table

Circular wastebasket

Hot glue gun

Clear hot glue sticks

Screw-in coat hooks
Tip
Purchase used and damaged snowshoes from resale shops to use for decorative purposes. Shop during winter or spring for the most selection.
Warning
Don't mar your walls. Wipe down the back of used snowshoes before attaching them to your walls for decorative purposes.
When you decorate with snowshoes you create a rustic and nostalgic look in any cottage, cabin or country dwelling. Collect vintage snowshoes and create an eye-catching display or hunt for more unusual, culturally varied snowshoes such as German Infantry snowshoes, Native American snowshoes or vintage snowshoes from Canada or Alaska. Pair up snowshoe displays with antique photographs featuring people snowshoeing through mountains and snow-filled fields to create a cohesive look.
Step 1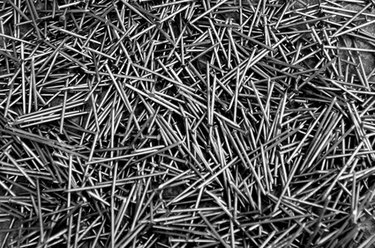 Hang your snowshoes on the wall. Simply place the shoes in a criss-cross arrangement or hang them parallel on the wall and hammer a few nails through the mesh to attach.
Step 2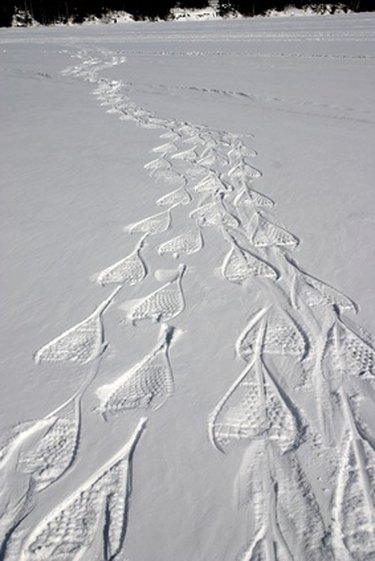 Line snowshoes up along the toe kick of a home-bar. Alternate the orientation of the shoes to create an interesting pattern. Attach to the bar through the mesh with a staple gun.
Step 3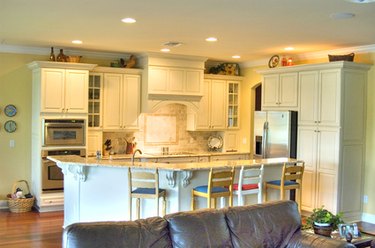 Lean a collection of vintage and modern snowshoes against the wall above kitchen cabinets and illuminate with track lighting.
Step 4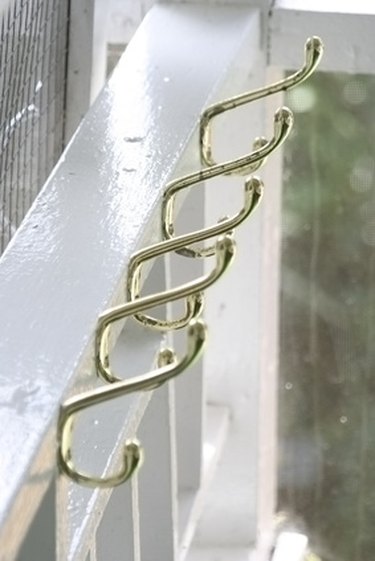 Display snowshoes over a mudroom storage unit. Create a winter display by hanging snowshoes over your coat-cubbies or storage units that hold your family's coats and shoes. Add some vintage ice skates to complete the look.
Step 5
Place snowshoes under glass to make a unique coffee table. Purchase a display-coffee table that features a hinged glass top and a display area. Lay your snowshoes onto the provided shelf and close to display.
Step 6
Wrap a circular wastebasket with snowshoes. Use hot glue to attach snowshoes around the wastebasket to create a unique rustic accessory that is functional as well.
Step 7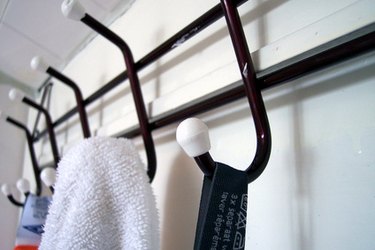 Use snowshoes as a backdrop for coat hooks. Take one snowshoe and hang it on the wall lengthwise. Screw coat hooks through the shoe and into the wall at equal intervals along the length of the shoe.
Step 8
Lay snowshoes on a shelving bracket in the bathroom to create a rustic toiletry shelf for towels and toothbrushes. Screw them to the bracket to secure.
---
Diane Steinbach has been writing for a variety of professional, educational and entertainment publications for more than 15 years. She has authored several books on art therapy, including "Art as Therapy: Innovations, Inspiration and Ideas." Steinbach holds a Bachelor of Arts in art therapy and behavioral science from Mount Mary College in Milwaukee.