Bed risers increase the amount of storage space under a bed, which is an ideal solution in a small living space. One downside of risers is that they tend to be made of plastic and typically don't blend in with the furniture or room decor. A standard bed skirt may be too short to hide the bed risers completely. Solve the problem and improve the look of a bedroom by making your own extended length bed skirt.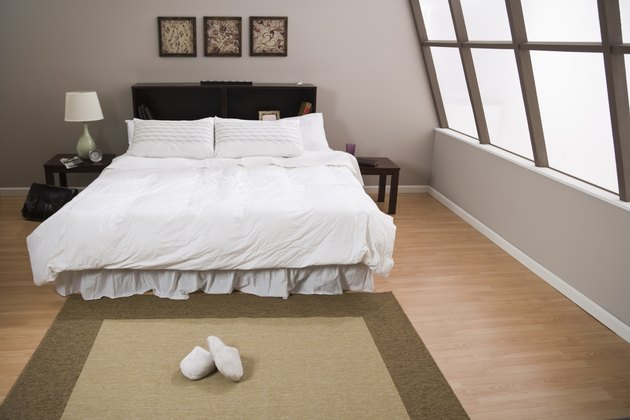 Step 1
Measure from the bottom of one riser to the top of the box spring. Measure the width of the box spring from side to side and the depth from the top edge of the bed (where the pillow is) to the foot of the bed. Make note of these measurements.
Step 2
Determine the dimensions of the bed skirt. Add twice the height to the depth of the box spring for the length of the skirt. Add twice the height to the width of the box spring for the width of the skirt. Add 2 inches to both measurements for the seam allowances. If your bed is 20 inches high, 36 inches wide and 72 inches deep, you'll have a bed skirt with dimensions of 104 inches for the length and 78 inches for the width.
Step 3
Cut the fabric to the dimensions of the bed skirt. Unless you have very wide fabric, you most likely need to cut two panels to half the width of the finished bed skirt, then stitch them together.
Step 4
Lay the two panels of fabric on top of each other with the right sides together, if you're using two separate pieces of fabric. Skip this step if your fabric is wide enough. Pin together along one long side, then sew together with a half-inch seam allowance.
Step 5
Unfold the fabric and lay it wrong-side up on top of the box spring. Arrange it so the fabric falls over the four sides of the bed evenly, reaching to the floor on each side.
Step 6
Pin the fabric together at each corner, making a straight line with the pins along the vertical edge of the box spring and risers. A triangle shape will stick out of the fabric on the corners. You'll trim this later.
Step 7
Take the fabric off the box spring and stitch a straight row of stitches along the row of pins.
Step 8
Cut the excess triangle of fabric away, leaving a half-inch seam.
Step 9
Fold up the four edges of the fabric a quarter inch, then up another 3/4 inch and pin. Sew along the four edges to hem.
Step 10
Slide the finished bed skirt back over the box spring and position it so it's even and covers the risers. Place the mattress back on the bed.