Silver plate trays make creative wall decor. The trays are simple to hang and jazz up a living room or kitchen wall in a matter of minutes. Rather than store an antique silver plate tray in a closet where it will gather dust, display it above a kitchen table or couch to create a room focal point. Plate trays are typically rectangular and feature ornate details around the perimeter. Polish the tray to a shine prior to hanging it.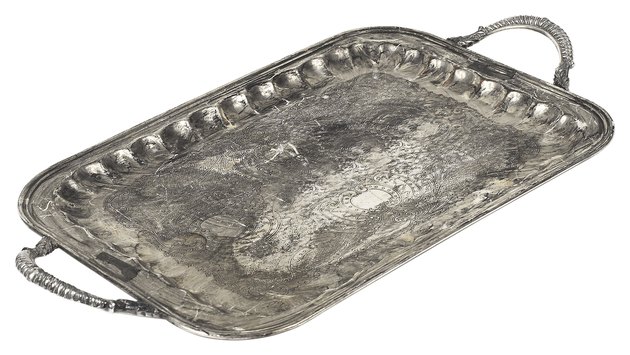 credit:
Hemera Technologies/PhotoObjects.net/Getty Images
Step 1
Cut 3 feet of ribbon that coordinates with your home decor style and color scheme.
Step 2
Attach one end of the ribbon to one of the tray's handles with an overhand knot, allowing approximately 4 inches of excess ribbon.
Step 3
Run the ribbon across the back of the tray to the opposite handle. Attach the end of the ribbon to the handle with another overhand knot, allowing approximately 4 inches of excess material.
Step 4
Locate the center of the tray and pull the ribbon up from the back of the tray. Make sure the ribbon has a clearance of 5 to 6 inches from the tray.
Step 5
Pull on one of the excess ribbon tails to take up any slack if necessary. Tie another overhand knot over the first knot to secure the ribbon end firmly to the tray handle. Repeat on the opposite handle.
Step 6
Hold the tray up to the wall using the ribbon. Determine how high you want the tray to be and place a small pencil mark just under the ribbon.
Step 7
Place the decorative hook over the mark that you placed on the wall. Mark the wall again using the hook's two pre-drilled holes for placement. Screw two drywall anchors into the wall at each mark until their heads are flush with the drywall material.
Step 8
Place the hook over the drywall anchors and align the holes. Place fasteners through each hole and thread them into the anchors to secure the hook to the wall. Place the ribbon over the hook and adjust the tray so that it hangs evenly.