Your apartment should reflect who you are, whether you're an artist, a corporate professional or a world traveler. By embracing graphic accessories and color, adding texture and proper lighting, your apartment will be the envy of the building. Use the space to express your personality and interests; use it to share your life experiences and create new memories by making your apartment a cool place to live and play.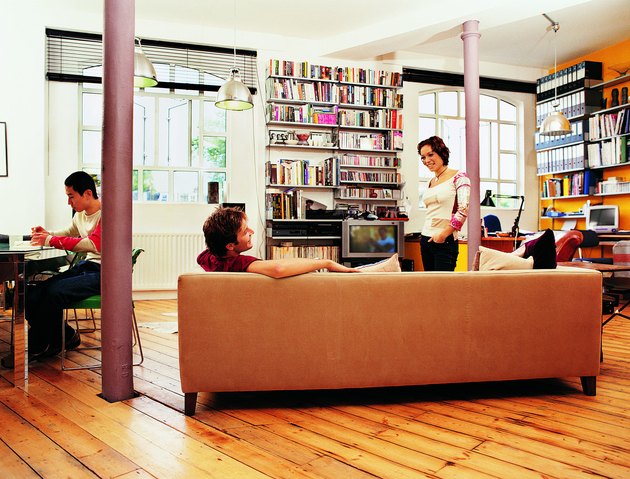 credit:
Digital Vision./Digital Vision/Getty Images
Express yourself through color, accessories and personal items. If your landlord allows, paint at least one wall a bright color, then trace large circles in a random arrangement on the wall and paint white, whimsical polka dots in random patterns. For a removable decor solution, use starch to affix fabric to your walls. Choose a funky geometric fabric to adorn an accent wall in your living room, or cover every wall in your bedroom with a subtle striped print to create an intimate feeling. Accessorize with oversized objects: light fixtures, wall clocks, huge movie posters or even taxidermy items made of cardboard. Personalize the space with keepsakes from overseas trips. If you're an artist or musician, let the tools of your trade do double-duty as decor elements when not in use by putting them on display.
Include a wide variety of layers and textures. Try building your living room from the ground up. Spread a large sisal rug over the standard flooring in your apartment, and place a smaller, shaggy rug on top of the sisal to add texture. Score a coffee table from your favorite flea market, paint it a brilliant red or yellow, and place it atop the layered rugs. Other options include combining a soft velvet sofa with rough rattan ottomans, or hanging nubby linen draperies near the ceiling to de-emphasize the standard mini-blinds that seem to come with every apartment.
Set the mood for your apartment with the liberal use of light fixtures and lamps. Many apartments have an outlet in the ceiling for a light fixture or ceiling fan in the main rooms; use it. Hang a conversation-starting light fixture made of chrome, shells or even paper over your dining room table. Look for opportunities to light dark corners with uplights and showcase favorite works of art with spotlights. Unconventional and cool lighting comes in all forms: lava lamps, Asian paper lanterns and even twinkle lights. Find lamps and light fixtures that speak to you.
Personalize With Colorful Accents
Standard apartment colors such as brown, tan or beige make an ideal backdrop palette for bright pops of color. Sew your favorite concert T-shirts together to form a quilt and hang it over plain white walls for immediate personalization that pops with color. Mix your favorite color paint with a couple of tablespoons of non-sanded tile grout to create chalkboard paint that you can use anywhere. Paint it on your coffee table; set out colored chalk; and encourage your guests to draw on the furniture. Scatter bright orange, yellow and red pillows adorned with a pattern you love -- silk flowers, funky patches or a Mid-Century graphic print -- on your gray couch, or throw a fuchsia Bohemian print tablecloth over your dining table. Experiment with the colors you love.