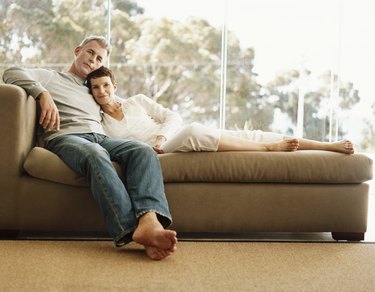 The sofa is a mainstay in many types of seating arrangements, but a regular sofa does not always suit the feel and function of the room. Rather than eliminate seating altogether -- go backless. A backless sofa still provides seating for multiple people, with the added benefit of greater versatility; it carries an air of sophistication. In large open-plan rooms with multiple focal points, a divan, Recamier, the fainting couch or a chaise longue can provide the perfect way to divide separate spaces without adding height barriers that impact the view or conversation between guests.
Simple, Long and Low
The traditional divan -- of Persian descent -- is a long low sofa with neither back nor arms. Typically placed against the wall, sometimes with pillows to provide additional comfort and back support, the most authentic European interpretations included one tufted mattress-like cushion atop its low wooden frame. In a pinch, toss cushions could be removed for an extra sleeping surface. In contemporary terms, the divan is similar to a daybed but lower to the ground. It remains a great option for seating against a wall, particularly in the foyer or flanking a fireplace.
Reclining Comfort
The chaise longue, also known by the shortened chaise, translated from French simply means long chair. It is an armless upholstered seat, generally designed for only one person, which encourages reclining. The furniture piece can be contoured for a more comfortable reclining position or be more upright. Today, the chaise longue is often included in sectional arrangements and thus favors the more upright position. When part of a larger configuration, the chaise can seat up to three, and it is this portion of the sectional which most often floats in the center of a room -- as opposed to being placed against a wall.
A Place to Catch A Breath
Featuring an uneven back height which tapers at one end, usually before it reaches the end of the seat cushion, the fainting couch also has one arm for support. A chaise longue -- also known as a chaise lounge -- with an arm, technically, is a less stylized fainting couch. Their height of popularity was in the 19th century when corsets were an expected part of a lady's wardrobe; many ladies wore their corsets too tight and were prone to fainting. Contemporary styles are less pronounced and appear quite regularly in bedroom seating areas and living rooms.
A Conversation Piece
A backless sofa with two scrolled ends, accessible from either side for sitting, is a called a Recamier. Some also feature arms on opposing sides, encouraging users to face one another in conversation, perfect for a tete-a-tete. As with the other styles mentioned, contemporary variations can be found without the scrolled ends for a more streamlined look. These pieces are made to be placed in the middle of a space, not up against a wall, providing an ideal solution for rooms both large and small.
---
A decorator/designer, writer, power yogi, and philanthropist, Christina Mogk has been published in Oceana, Canadian Fabric, for which she is managing editor, and Wedding Essentials. She is the author of the blog, mecc interiors | design bites, and writes feature articles for the professional design community via Décor Digest.