Haviland Limoges china dinnerware item may have a hallmark or a backstamp on the underside of cups, saucers and plates, but it may not have a pattern number. David Haviland, a New York-based china retailer, opened a manufacturing plant in Limoges, France, in 1842 to begin producing china himself instead of just selling other companies' wares. Other members and generations of the Haviland family also produced china, resulting in five Haviland companies that made Limoges china for over 150 years, resulting in between 20,000 to 30,000 Haviland patterns or more.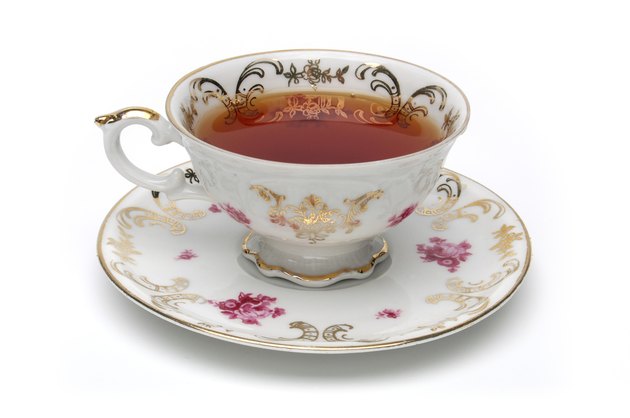 credit:
Merih Unal Ozmen/iStock/Getty Images
David Haviland, a New York china retailer, opened a manufacturing plant in Limoges, France and shipped his first pieces to America in 1842 after a customer brought a broken cup into his New York store that he could not identify. This sent him on a discovery for the cup's origin, which eventually led him to Limoges, France. Four generations of the family have produced china from the Limoges region, under four separate companies that have carried the Haviland name.
Turn over a piece of china -- a cup, saucer or plate -- to examine its backside for a Haviland hallmark or a monogram. Some simply say "Haviland -- Limoges, France," with other marks that signify "H & Co." with an "L" or "Haviland, France." With over 150 years of china production, the Haviland companies produced multiple backstamps and china patterns. To identify the various hallmarks and some of the china patterns, look to the reference book published by the Haviland Collectors International Foundation titled, "Celebrating 150 Years of Haviland China 1842-1992," or check online collectors' sites or retailers that offer item replacements to view all the backstamps the companies used.
Schleiger Pattern Identification System
Nebraskan Arlene Schleiger went on a hunt in the 1930s to replace missing items from her mother's Haviland china set. She discovered that Haviland china sets often included different blanks with the same patterns or similar patterns in different colors. She also realized that floral pattern arrangements often varied with differences between plates, and sometimes the flowers on the patterns were hard to identify. So she developed a number identification system that resulted in five published books, with the last book published in 1974. Avid collectors still use her numbering system to identify patterns.
With so many different patterns made over four generations of Haviland companies, versions one through five of Schleiger's books, "Two Hundred Patterns of Haviland China," can help you in your research to identify your particular china pattern. You can also contact the Haviland Collectors International Foundation to request a china pattern identification from a photo, or visit one of the many online replacement sites that include pictures of many of the Haviland Limoges china patterns. If all these methods fail, take your china item to a china appraiser or collector.