Things You'll Need
3 yards of 44- to 48-inch wide cotton-blend fabric

Crib-size polyester quilt batting

Ruler

Soft pencil

Scissors

Pins

Few yards of acrylic knitting yarn to coordinate with the fabric

Large-eyed darning needle

Thread to match

Sewing needle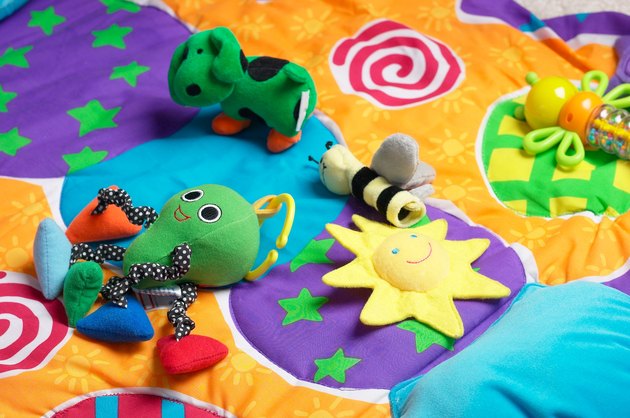 Making a crib comforter for a new baby is almost as easy as making a sandwich. In fact, a simple crib quilt is nothing more than a sandwich made of two layers of fabric and a filling of polyester batting sewn together with either yarn or thread. In this article, you will learn how to make a quick gift by assembling and tying together the three sandwich layers with yarn that coordinates with your chosen fabric.
Step 1
Wash and dry the fabric you'll be using to pre-shrink it and remove any chemicals remaining from the manufacturing process. When dry, iron the fabric smooth. Use the ruler and pencil to mark two rectangles on the wrong side of the fabric, one about 38 inches wide by 52 inches long, the other 36 inches wide by 50 inches long. Save the fabric scraps for later.
Step 2
Place the 38 inches by 52 inches fabric rectangle wrong side down on a table. Put the polyester quilt batting on top of it, keeping it centered on the fabric layer. Don't worry if the batting is a little larger right now. Next, place the 36 inches by 50 inches fabric rectangle right side up on top of the quilt batting. This is the quilt "sandwich" which with you'll be working.
Step 3
Pin all layers together beginning at the center of the sandwich, first pinning from the middle out to the sides, then pinning from the center up to the top and down to the bottom. Next, pin from the center out to the four corners. This holds all layers of the sandwich in place so that nothing shifts out of place.
Step 4
Cut several 8 inches lengths of yarn. Thread one through the eye of the darning needle. Starting at the middle of the comforter, take one stitch with the yarn through all three layers, leaving the yarn tails on the top side of the comforter. Remove the needle and tie a square knot in the two tails. Moving outward, continue making the yarn ties about 4 inches apart in the order in which you did your pinning. Remove the pins as you go.
Step 5
Trim the batting even with the edges of the top piece of fabric. There should be a strip of the larger fabric rectangle showing all the way around the batting and upper rectangle like a frame. Turn its top edge down, folding under the raw edge of the fabric (the place where you cut it), and overlapping it slightly on to the upper fabric. Pin in place, making sure it's smooth and neat. Continue with the other three edges.
Step 6
Sew the turned-under edges to the comforter's top, using a blind hemstitch. Iron lightly to smooth out your sewing.
---
Susan Kerr began her writing career as a food columnist in 1987 before moving to business journalism as a reporter and managing editor in the Penn State area. Since then, Kerr has contributed content to military-related magazines, not-for-profit websites and other online media. In addition, she writes a weekly column for her hometown newspaper