A ship's steering wheel adds the finishing touch to the room you've decorated with items from the sea. Small samples of fisherman's knots under glass, the ship's clock that peals dinner's four bells or even hand-built ships protected by glass in your nautical-themed room -- all complement your authentic ship's wheel on the wall. Mount your wheel on the wall by securing hidden mounting brackets on the back.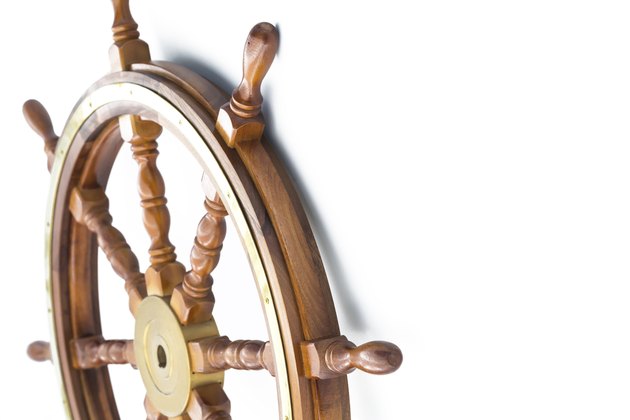 credit:
jaym-z/iStock/Getty Images
Step 1
Hold the ship's wheel on the wall to determine the best position. Measure the back of the wheel to know where to position the brackets. Mark the wall with these measurements for installing the wall anchors.
Step 2
Position the two flat mounting brackets on the back of the ship's wheel so they won't appear when it's on the wall. The top hole hangs on the wall fastener, while the bottom is secured to the wheel with a wood screw and a washer.
Step 3
Align the mounting brackets across the back of the wheel using a straightedge. Mark the location on the wheel through the bracket holes for drilling.
Step 4
Drill small pilot holes with a drill bit sized to the screw. Make certain your screws are not longer than the wheel is deep; you don't want them poking out the front.
Step 5
Secure the screws to the mounting brackets tightly. Hold the ship's wheel up to the wall and mark the location for the wall anchors based on the mounting brackets. Verify that the wall-anchor fastener head fits through the mounting bracket hole before drilling.
Step 6
Drill holes in the wall with a bit sized for the wall anchors. Insert the wall anchor into the wall, and lightly tap it with the hammer until it is flush with the wall, unless it requires a screwdriver to install. Insert the fastener end into the wall anchor with the screwdriver. Leave enough of a head showing to hang the ship's wheel.
Step 7
Align the mounting brackets to the wall anchors and slip the hole of each bracket over the fastener. Step back to check the ship wheel's position on the wall.