While a mobile home is inexpensive compared with a stick-built home, you can upgrade it inside and out with modern materials and paint. Taking time to research and determine a style, such as contemporary, mid-century modern, country, shabby chic or eclectic, speeds the process of renovating and redecorating the space. Repurposing and reusing your existing furnishings helps control the budget.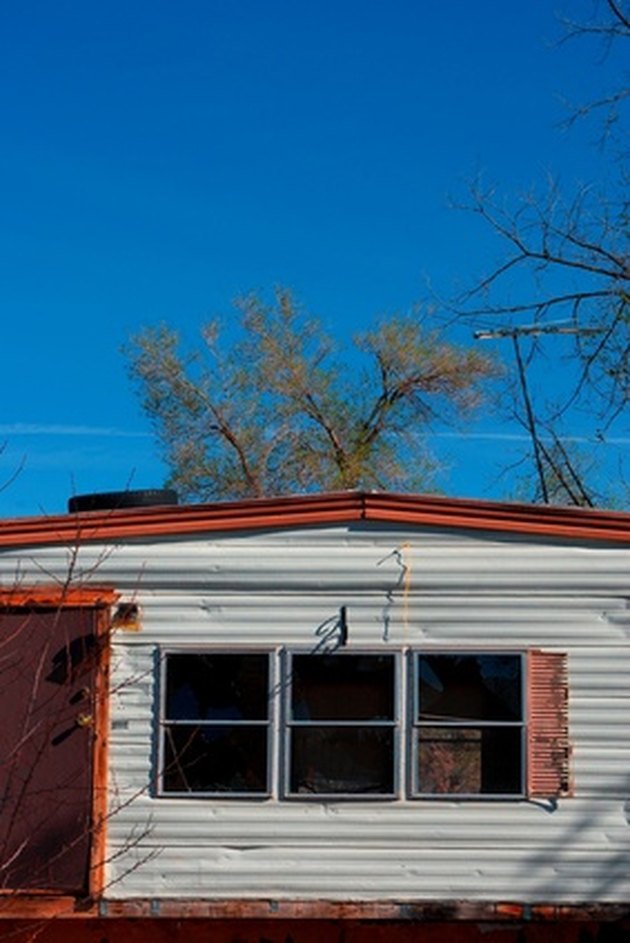 Step 1
Hire a home inspector. An inspection of the structure, plumbing, wiring and roof provides a realistic look at the amount of work that the mobile home may require to make it a safe and livable space. Old wiring in both mobile homes and vintage houses should be upgraded in order to carry the extra load of modern appliances.
Step 2
Install new energy efficient windows and new siding over the old sides if the budget allows.
Step 3
Power wash, prime and paint the outside in a neutral color scheme with a contrasting trim color. Do not forget to paint the porch.
Step 4
Plant a new landscape around the mobile home, concealing the skirting and other obvious indicators of the home's humble origins. Simple trellises or arbors with flowering vines or grapevines add a cottage look to the garden. A picket fence is also a nice finishing touch.
Refurbish and Redecorate the Interior
Step 1
Measure each room and draw a floor plan. Measure the furniture that you plan to use in your updated decor . Make paper cutouts of the furniture, to scale, so you can arrange and rearrange the furniture.
Step 2
Scrub the walls and ceiling with TSP cleanser. Wipe down with clean water.
Step 3
Spackle the little grooves in the paneling, and sand smooth. Then prime and paint with light, neutral tones to match your chosen decor.
Step 4
Remove the carpets and clean the subfloor.
Step 5
Install either laminate or engineered hardwood floors. If the budget is extremely tight, sheet vinyl is available in a wood grain that is very realistic as well as durable. Install sheet vinyl or ceramic tile in the kitchen and bathroom. Install new baseboards.
Step 6
Replace the kitchen appliances with good quality, brand-name appliances. High-end stainless steel appliances are not necessary, a simple white is clean and efficient.
Step 7
Install good quality laminate counters or granite tiles as a frugal alternative to custom granite counters.
Step 8
Sand and paint the cabinets or reface if necessary. New handles on doors and drawers dress up the kitchen.
Step 9
Decorate in your chosen style.