Things You'll Need
Fabric

Measuring tape

Scissors

Pins

Sewing machine or heat-bond fabric tape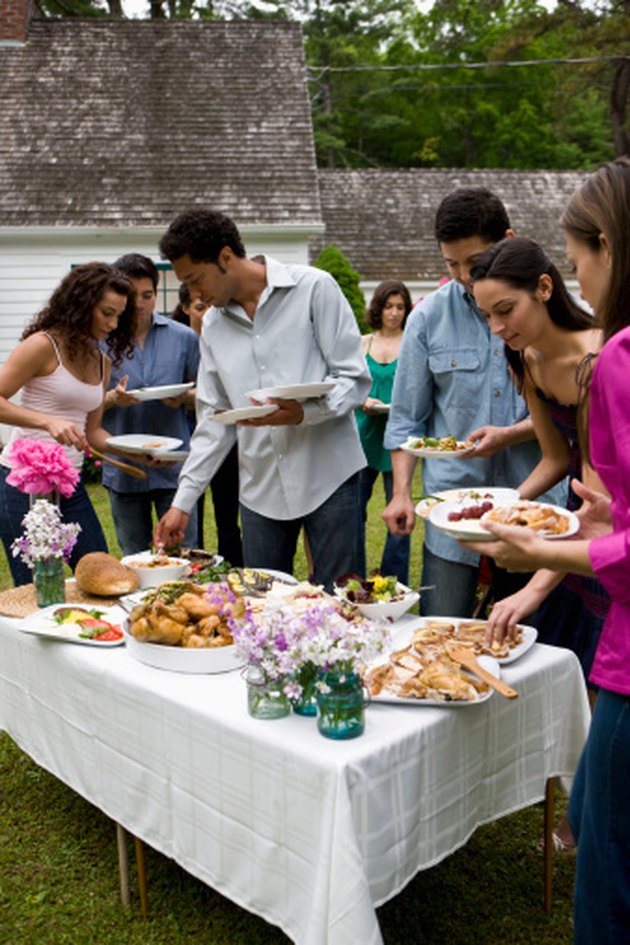 Tablecloths are simple to make, even if you have little or no sewing experience. By making your own tablecloth, you can not only save money, but also customize it to coordinate with your dining room's color scheme or a holiday celebration. When choosing fabrics for your tablecloth, remember that heavier fabrics intended for home decor hold up better to stains and spills.
Step 1
Decide how large to make your tablecloth based on how long you want the "drop" to be. This is the amount of fabric that hangs over the edge of the table. Typical drops range from 6 to 12 inches. The longer the drop, the more dramatic the look.
Step 2
Add the drop measurement you want to the length and width of the table measurement to determine how much fabric you need. Add 1 inch to the width and length measurements to allow for a seam allowance. For example, if your table is 8 feet long and 4 feet wide and you want an 11-inch drop, you need 9-by-5-foot fabric.
Step 4
Turn the fabric right side down and fold up a 1-inch seam allowance all around your fabric and secure with pins. For neat corners, cut a triangle out of the seam allowance at each corner so that the seam allowance from adjoining sides meets neatly when folded.
Step 5
Stitch down the center of the seam allowance to create a finished seam. For a no-sew tablecloth, place heat-bond fabric tape between the 1-inch seam allowance and tablecloth fabric and press with an iron on the "wool" setting for 30 seconds all the way around the cloth.
---
Betsy Morgan has been writing and editing professionally since 1995. She has written for publications like "Wired" magazine, "Paper" magazine and Vault.com. She has a Bachelor of Arts in history from Columbia University.