Reclaiming old barn wood is good for the environment and perfect for home décor. The wood has history, lots of character and lasts forever. It makes attractive accent pieces and can become useful furniture or wide-planked flooring, picture frames or interior shutters. Barn wood looks right at home inside the house.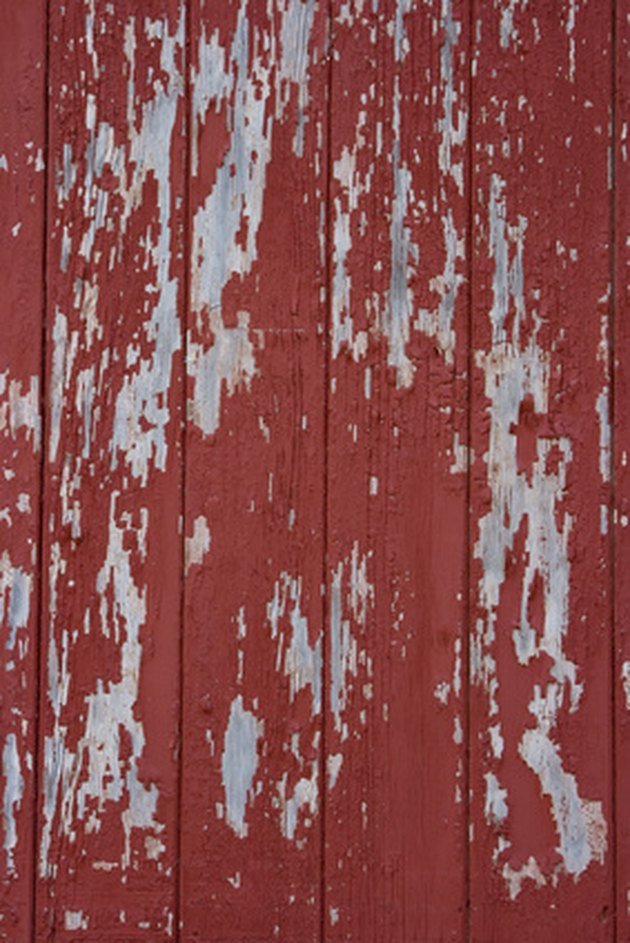 Wall or door decorations and outdoor pool signs look authentic and antique when painted on barn wood. Decorate barn wood boards as ads for a farm stand, the kids' lemonade stand or your booth at the local crafts fair. Hang a painted sign on a bedroom door to identify the occupant or deliver a "Keep Out" warning. Barn wood pool signs point to the bath house or remind guests of pool etiquette. Make a faux vintage sign with stenciled letters or just copy old-fashioned typeface in milk paint. "Age" your sign by painting the words in a deep color. When dry, coat the painted words with crackle glaze and repaint the letters in a lighter color while the crackle glaze is still tacky. As the glaze dries, the top coat crazes like old, flaking paint, revealing the color underneath.
A barn wood pie safe is a conversation piece that earns its keep. Use your own carpentry skills or take the wood to a woodworking shop. Measure a space in the kitchen or pantry with room for a shallow cabinet with shelves. Blocks of barn wood or painted bun feet support the cupboard. The pie safe has a flat top of sanded barn wood with a slight front and side overhang. Make the back flush so it fits snugly against a wall. Two hinged frame doors in front hold punched tin panels and adjustable shelves store cans and jars of food, cookbooks, table linens and dishtowels or kitchenware. Hunt for some rusty iron latches to use as doorknobs or find faux vintage knobs in a hardware store or flea market.
A couple of old oxidized decorative iron braces and a length of barn wood, sanded and varnished or lacquered is all you need for a breakfast bar with built-in character. Figure out the height based on whether you will use chairs or bar stools for seating. Use a carpenter's level to mount the braces straight and rest a slab of sanded, polished and sealed barn wood on the braces. Secure the wood to the braces on the underside with screws. Paint unfinished wood bar stools with milk paint and tuck them under the counter. Set a glass mason jar with a few wildflowers on your breakfast bar and you're ready for grits and eggs.