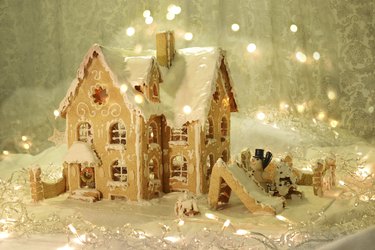 The spirit of Christmas has overtaken you and eroded your last sober reserves of frugality and common sense. Your banal home in the 'burbs is slated to go the way of Hansel and Gretel, and emerge from the trees as a gingerbread wonder, almost delectable in its holiday embellishments. So, don't hold back; a holiday gingerbread house should be over-the-top and tempting enough to slow traffic -- especially gift-laden high-flyers who might land on your candy-coated roof to sniff around the chimney for evidence of freshly baked Christmas cookies.
Twinkle, Twinkle, Every Eave
Lights are the key to the look. String them along every single architectural detail of your home -- and what you don't have, make up. Study the trim on real Victorian gingerbread houses for ideas. Colored light strings go along the roof and porch eaves, the door and window frames, the chimney, dormer, path to the front door, lamppost and front yard trees. Twist lights around porch pillars and weave them through the railings. Drape nets of lights over bushes and set small paper lanterns on the front steps. Look for light strings in the shapes and colors of hard candies, then add giant light-up candy canes, frosted gumdrops and a snowman and place battery-operated holiday candles in every window.
Stand-Up Sweets
Make or buy large standing gingerbread boys and girls to edge the front walls of the house or the front porch railing. Cardboard shipping boxes works well for temporary gingerbread figures; painted wood or molded pressboard figures can last for years. Add huge lollipops -- either painted plywood circles on dowels that stick in the yard around a tree or edging the path to the door, or light-up lollipops you can link to a power source for glow. Connect brightly colored children's plastic pails to outdoor light strings with plastic cable ties, turn the pails upside down and cover the visible part of the main roof or a garage roof, with luminous gumdrops.
Glittering Sugar Frosting
Hang icicle lights from the roof edge so they hang down like the real thing or a rock candy version. Swaddle the edge of the roof, the tops of the window frames, the eyebrow or gable over the main door and the garage roof and door frame with glittery fake snow batting that looks just like frosting. Stretch the shiny snow-white fabric over shutters and hang a row of round hard candies -- plywood circles or old plastic throwing discs painted to look like candies and peppermints -- down each shutter. Spray large flowerpots metallic silver, and paint vertical lines on them to resemble the accordion pleats in cupcake papers. Pile more snow fabric in each pot; and top the giant cupcakes with a red plastic pompom to represent the cherry on top. Station one on either side of the door.
Visions of Sugarplums
A sugarplum, that quintessential Christmas treat, is really a blanket term for candies, pastries and anything delectable and sweet. Park a life-size decorative nutcracker in the front yard, next to Santa's fancy sleigh and the reindeer, and sugarplum the rest of the landscaping. Drape burlap over small fir trees and swirl painted canvas dropcloths around the bottom of the burlap tepees to make upside-down ice cream cones in your favorite chocolate, strawberry and vanilla flavors. Painting a dropcloth strawberry-pink or chocolate-brown is a fun and messy project for school-age kids, who can help with draping the trees, too. If you have no suitable trees, make upside-down cones from dowels or bamboo garden poles and cover them in burlap with a scoop of canvas ice cream.
---
Benna Crawford has been a journalist and New York-based writer since 1997. Her work has appeared in USA Today, the San Francisco Chronicle, The New York Times, and in professional journals and trade publications. Crawford has a degree in theater, is a certified Prana Yoga instructor, and writes about fitness, performing and decorative arts, culture, sports, business and education .