Soften the glow of Christmas lights by tying tulle loosely around the string of bulbs. Whether your lights are white or colored, tulle diffuses the shine, surrounding each bulb with a misty aura. Cool to the touch, low-watt LED bulbs powered by batteries are safe to use closely with decorative tulle. The battery pack means you can use the lights to illuminate anything, anywhere, whether or not the area is wired for electricity.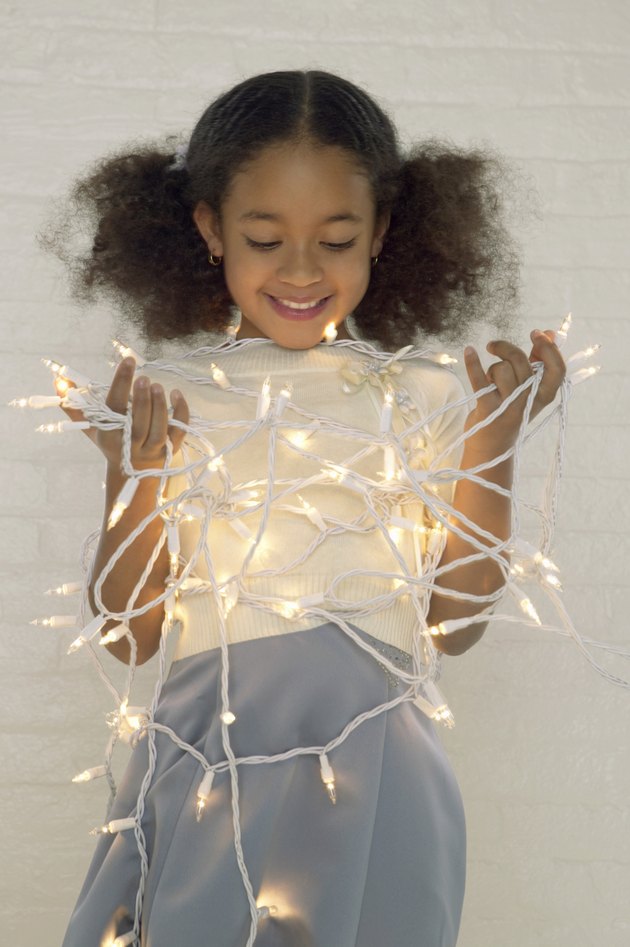 credit:
Digital Vision./Digital Vision/Getty Images
Step 1
Cut tulle yardage or 6-inch-wide tulle from a roll the length of the string of lights plus an additional 1/4 of the length. Lay out tulle yardage flat on a table or the floor, and cut it lengthwise into strips about 6 inches wide.
Step 2
Place a string of lights down the center of a strip of tulle. Encase the light string by folding the tulle over it. Wrap a wire tie around one end of the tulle and the end of the light string, and twist the tie to secure it.
Step 3
Gather the tulle in the space between the next two bulbs, creating a puff of tulle over the bulbs. Secure the tulle between the bulbs with another wire tie. Continue fastening the tulle with wire ties between the bulbs until all are covered. Adjust the puffs over the bulbs to accommodate any extra tulle, or trim off the extra.
Step 4
Cut the ribbon into sections long enough to tie into bows around the light string. Tie a ribbon bow over each wire tie. Camouflage the battery pack inside a puff of tulle or a bow.