Things You'll Need
Scissors

LED battery powered light string

Wire ties

Ribbon
Tip
Experiment with different colors of tulle, and different colors of lights and ribbons to achieve a variety of effects. Gold or silver tulle adds an elegant sparkle to the lights. For twinkling points of light, try glittery tulle. Create a glimmer effect by wrapping a double layer of tulle around the lights -- one glittery layer and one white or colored layer.
Drape tulle-covered strings of lights anywhere you'd use plain light strings -- around windows, doors or mirrors, on shelves and mantels, along stair rails or balusters, or on wreaths.
Use the wire tie ends to help position the lights if you hang them.
Warning
Use only cool, LED lights with tulle to reduce fire risks.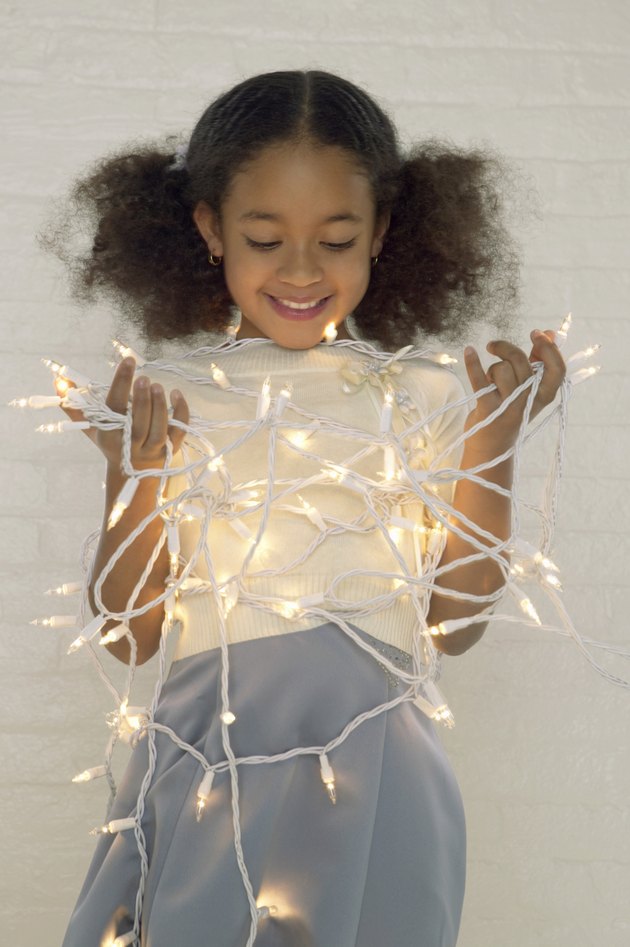 Soften the glow of Christmas lights by tying tulle loosely around the string of bulbs. Whether your lights are white or colored, tulle diffuses the shine, surrounding each bulb with a misty aura. Cool to the touch, low-watt LED bulbs powered by batteries are safe to use closely with decorative tulle. The battery pack means you can use the lights to illuminate anything, anywhere, whether or not the area is wired for electricity.
Step 1
Cut tulle yardage or 6-inch-wide tulle from a roll the length of the string of lights plus an additional 1/4 of the length. Lay out tulle yardage flat on a table or the floor, and cut it lengthwise into strips about 6 inches wide.
Step 2
Place a string of lights down the center of a strip of tulle. Encase the light string by folding the tulle over it. Wrap a wire tie around one end of the tulle and the end of the light string, and twist the tie to secure it.
Step 3
Gather the tulle in the space between the next two bulbs, creating a puff of tulle over the bulbs. Secure the tulle between the bulbs with another wire tie. Continue fastening the tulle with wire ties between the bulbs until all are covered. Adjust the puffs over the bulbs to accommodate any extra tulle, or trim off the extra.
Step 4
Cut the ribbon into sections long enough to tie into bows around the light string. Tie a ribbon bow over each wire tie. Camouflage the battery pack inside a puff of tulle or a bow.
---
Fern Fischer's print and online work has appeared in publications such as Midwest Gardening, Dolls, Workbasket, Quilts for Today and Cooking Fresh. With a broader focus on organic gardening, health, rural lifestyle, home and family articles, she specializes in topics involving antique and modern quilting, sewing and needlework techniques.