Things You'll Need
Roses

2 white cotton towels

Book or heavy object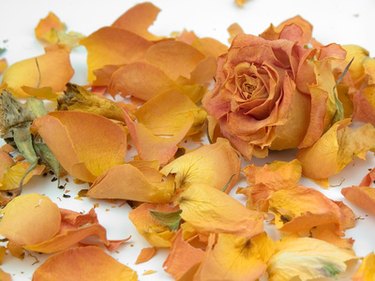 Rose petals can be dried to use for many projects, such as in potpourri, floral arrangements, and for special occasions such as weddings. You can also dry rose petals from special bouquets to keep as mementos. The petals must be dried properly so that they remain fragrant and keep their original color.
Step 1
Choose a rose that is not fully bloomed and does not look wilted or damaged. Dark-colored roses dry the closest to the original color. White or light-pink roses will yellow when they are dried.
Step 2
Remove each petal from the rose and lay them in a single layer on one towel. Place them with the curling sides down so that they will dry flat.
Step 3
Place the second towel on top of the layer of roses and pat firmly to remove the moisture from the petals. Do not rub the towel, as this may cause the petals to curl and tear.
Step 4
Place a heavy book on top of the towels to flatten the petals and hold them in place. The petals will take about 3 to 4 days to dry. Make sure they are completely dry and brittle before removing them, to prevent mold and mildew in the petals.
---
Katrina Everheart started writing with eHow about two years ago. She enjoys writing about her hobbies and interests, and about everyday household problems. She also has experience with art and photography, and has taken many classes for photography.